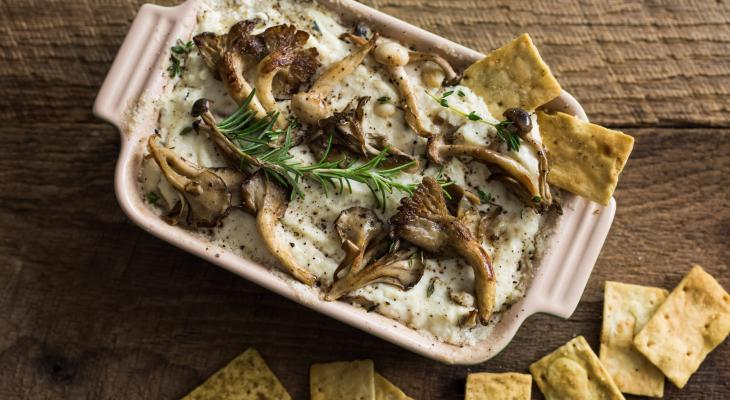 Ingredients
1 Package of La Brea Bakery Rosemary Flatbread Crips

8 oz Goat Cheese

8 oz Whole Milk Ricotta

3 Tbsp Butter

4 oz Mixed Wild Mushrooms

1 Clove Garlic, Minced

1/2 tsp Fresh Rosemary, Chopped

1/2 tsp Fresh Thyme

1/4 tsp Lemon Zest

Salt and Pepper to Taste
Preparation
Set oven to Bake and preheat to 350 degrees.

Lightly oil a 6 inch baking dish.

Melt butter in sauté pan and add mushrooms, rosemary, thyme, and pinch of salt.  Cook for 3-4 minutes until tender, remove, and set aside in a bowl.

In a small bowl, mix together the goat cheese, ricotta, and lemon zest.  In a baking dish, layer the cheese mixture, and top with half the mushroom mixture.  Layer the remaining cheese mixture, top with the rest of the mushrooms, and press down slightly.

Bake covered for 15-20 minutes until the cheese is melted.  Uncover, change to broil, and finish the dip under the broiler for 2 minutes until mushrooms caramelize. 

Remove and serve immediately.