A medley of fall vegetables, loads of parmesan, and bright lemon parsley oil make this cozy golden vegetable chickpea minestrone sing.
Ingredients
Crusty bread (such as La Brea Bakery Seeded Grain Loaf), for serving
2 tablespoons extra-virgin olive oil, plus more for drizzling
1 large yellow onion, diced
4 large garlic cloves
2 medium carrots, scrubbed and sliced diagonally into ¼-inch thick ovals
2 celery stalks, thinly sliced
3 cups 1-inch cubes peeled butternut squash
½ pound (225 g) yellow fingerling potatoes, sliced ½-inch thick
1 small yellow beet, peeled, quartered, cut into ¼-inch thick pieces
a few sprigs fresh sage or thyme
1 or 2 parmesan rinds (about 2 inches square)
6 cups (1.5 L) water
2 vegetable bouillon cubes
2 (13-ounce / 385 ml) jars or cans cooked chickpeas, drained (~2 ½ cups)
18 ounces (525 ml) jarred whole peeled tomatoes, drained, seeded, and cut into large chunks
fine sea salt and freshly ground pepper, to taste
8-10 ounces (280 g) dry shells, macaroni, or other small pasta cooked until al dente and tossed with olive oil
shaved parmesan, for serving
Lemon Parsley Oil, for serving (See preparation)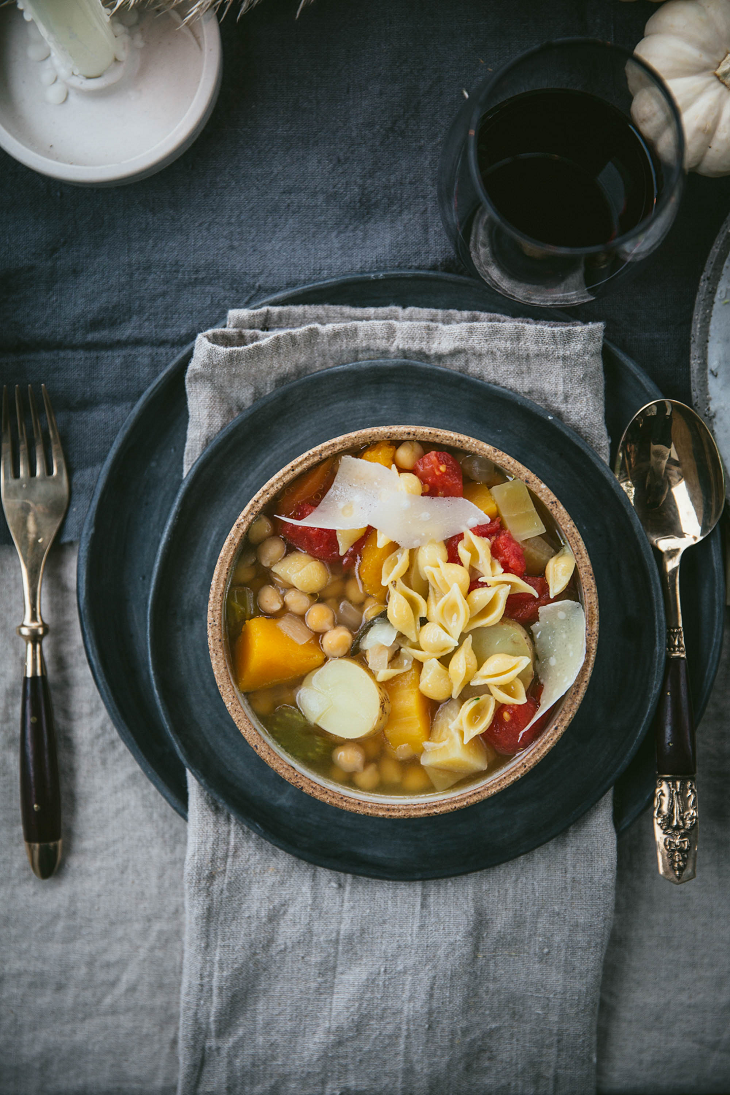 Preparation
In a large soup pot, heat the oil over medium-high heat. Add the onion and garlic, and cook, stirring occasionally, until softened slightly, 3-5 minutes. Add the carrots and celery and cook another 3 minutes, then add the squash, potatoes, beets, herbs, parmesan rind, water, bouillon, and chickpeas. Bring to a boil, then reduce the heat to a simmer and cook, partially covered, until the vegetables are tender but still holding a shape, 10-20 minutes, adding more water if needed to make a brothy soup. Stir in the tomatoes and a few good grinds of pepper, then taste, adding salt if you feel the soup needs it.
Divide the pasta among shallow bowls, ladle in some soup, and serve with parsley oil, shaved parmesan, and more black pepper, with crusty bread on the side. The soup and pasta can be stored separately, refrigerated airtight, for up to 4 days.
Lemon Parsley Oil
Place the parsley, lemon zest and juice, garlic, olive oil, and salt in a blender or small food processor. Puree until fairly smooth. Store refrigerated airtight for up to 1 week.
Recipe by: The Bojon Gourmet