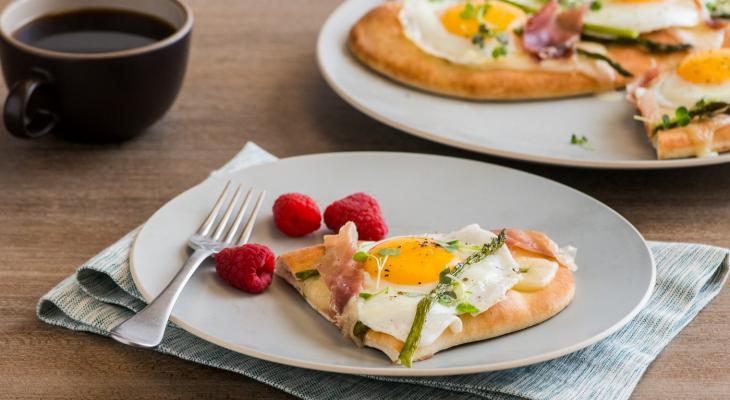 A Fresh Twist on a Classic Breakfast Dish.
Ingredients
2 Eggs
4 Stalks of Asparagus (Baby or Thin)
2 slices Slices of Prosciutto
½ cup Fontina Cheese Grated
Salt and Pepper to taste
¼ cup Micro-Greens
1 tsp. Butter
1 tsp. Olive Oil
Preparation
Preheat oven to 350°.
Coat Asparagus with Olive Oil, season with salt and pepper and place on a baking sheet. Roast in the oven for 15 minutes until cooked and starting to brown. Remove and put aside.
Place Naan in oven to warm through. Remove and let stand until cool enough to touch. Melt butter in sauté pan over medium heat. Add eggs and cook yolk side up until fully cooked through about 5 minutes.
While eggs are cooking, place Naan flat side down on work surface and add cheese evenly on top. Please in the oven to melt cheese, approximately 2 minutes. Remove and place on plate. Add asparagus, prosciutto and top with eggs. Season with salt and pepper and garnish with micro greens.