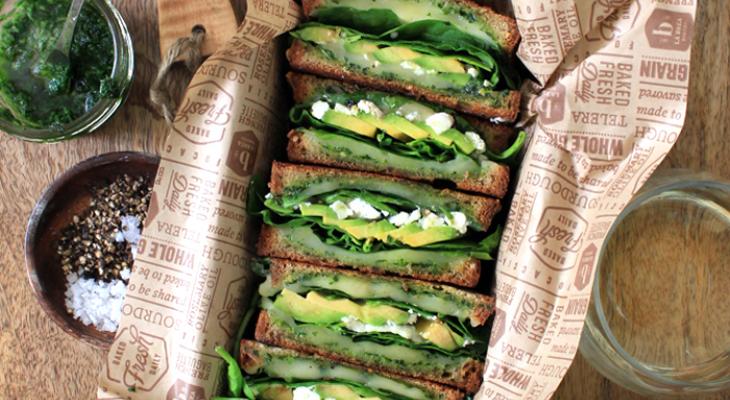 Brought to you by The Delicious Life.
Ingredients
3 Tbsp. Green Goddess Herb Pesto
½ cup Shredded Monterey Jack Cheese
2 Tbsp. Feta Cheese
¼ x Avocado, Sliced
Salt & pepper to taste
¼ Cup Grape Seed Oil
Preparation
Spread about 1 tablespoon of Green Goddess Herb Pesto onto each slice of bread. The pesto is strong, so if you're sensitive to garlic or the slightly bitter taste of fresh kale, go light on the pesto.
On one slice of bread, add ¼ cup of shredded Monterey Jack cheese, baby spinach, sliced avocado, crumbled feta cheese, dashes of salt and pepper, the remaining ¼ cup of shredded Monterey Jack cheese, then top it with second slice of bread. Press together gently.
Heat 1 tablespoon grape seed oil in a frying pan over medium low heat. If you want to use butter, add it to the oil and let it melt.
Add the sandwich to the oil and cook until bread is golden brown, about three minutes. Press down on the sandwich lightly, then flip the sandwich over and cook until second side is golden brown, another three minutes.
Remove Grilled Cheese Sandwich to plate, let cool, cut into halves, and serve. Hot sauce and little pickled things like onions, cherry peppers, or other hot peppers alongside the sandwich are great!
Recipe adapted from The Delicious Life.