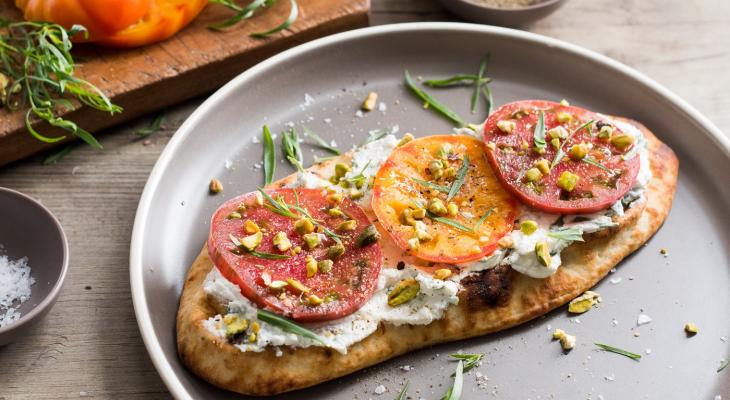 This recipe pulls together a range of distinct tastes for a full flavored flatbread appetizer.
Ingredients
½ cup Ricotta Cheese Drained
¼ cup Tarragon Chopped (Reserve Some for Garnish)
1 ea. Heirloom Tomato Sliced Into 1/4 Inch Rounds
¼ cup Whole Pistachios Chopped Rough
Salt and Pepper to taste
1 tsp. Olive Oil
Preparation
Preheat oven to 350 degrees.
Slightly warm La Brea Bakery Rosemary Naan in oven. Take out and let rest.
In a small bowl combine ricotta and tarragon and mix until well incorporated.
To assemble, spread ricotta mixture evenly on bread. Next, place tomatoes covering full length of bread. Top with pistachios and salt and pepper. Last, drizzle olive oil and garnish with remaining fresh tarragon leaves.
Serve.