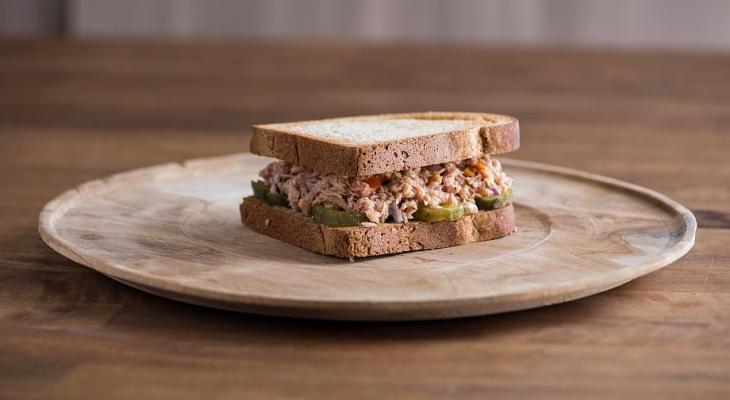 Ingredients
8 Slices of La Brea Bakery Gluten Free White Bread
1/2 medium red onion, chopped
1/4 cup red wine vinegar
1 Red Pepper, Chopped
20 ounces tuna, drained
1 stalk celery, chopped
1/4 cup plus 2 tablespoons (90ml) extra-virgin olive oil, plus more as needed
2 tablespoons (30ml) fresh juice from 1 lemon
12 pickles
Preparation
In a small bowl, combine onion and vinegar (vinegar should just cover onion; add more if it does not) and let stand 15 minutes.
Meanwhile, in a medium bowl, combine tuna with celery, red pepper, olive oil and lemon juice. Drain onion well, then add to bowl. Mix gently until thoroughly combined; season with salt and pepper. 
Slightly toast bread then put pickles on one slice
Spoon tuna salad onto 4 slices of toast, then close sandwiches and serve.