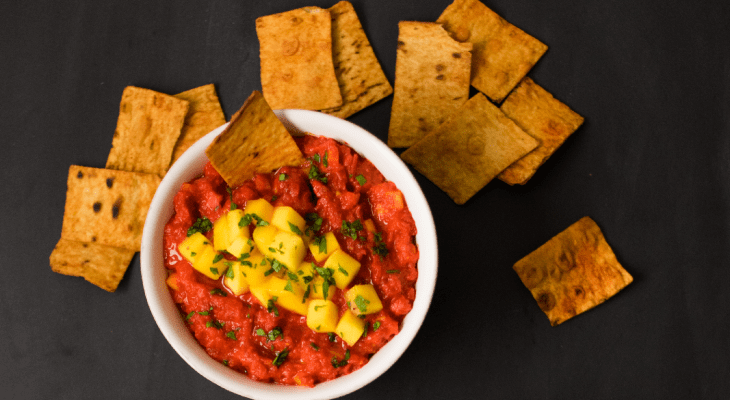 This dip features robust red pepper flavor with nutty undertones.  Pair it with our Paprika Flatbread Crisps for a tasty snack.
Ingredients
1 (12 Oz.) Jar Roasted Red Peppers, Rinsed
1/3 cup Slivered Almonds
3 Tbsp. Fresh Parsley, Chopped
2 Tbsp. Extra Virgin Olive Oil
1 Tbsp. Sherry Vinegar
1 Clove Garlic Sliced In Half
¼ tsp. Freshly Ground Pepper
Salt to taste
Fresh Mango to test, Chopped (To Garnish)
Preparation
Pulse peppers, almonds, parsley, oil, vinegar, garlic, pepper and salt in a food processor until finely chopped together (This should have a chunky consistency, rather than smooth).
Garnish with Mango and enjoy!
TIP: Toast the slivered almonds ahead of time to bring out their flavor. Toast them in a small skillet over medium-low heat until slightly brown.