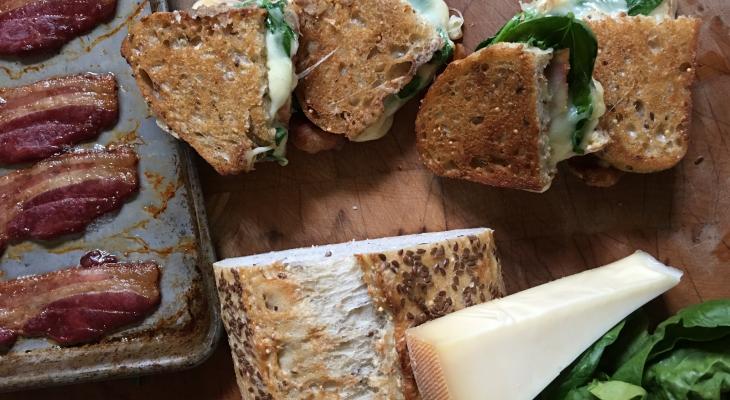 A no fuss grilled cheese zinger loaded with flavor.  Dijon, bacon, spinach, and raclette bring this combo over the top!
Ingredients
2 slices seeded grain loaf
2TBL butter
4oz raclette, sliced
2 pieces bacon, cooked until crispy
¼ c fresh spinach, cleaned and stems removed
2tsp Dijon mustard
Preparation
Butter one side of each of the bread slices, spread Dijon on the other side.
On a preheated griddle or sauce pan, place one piece of bread butter side down.
Build the sandwich, place half of the raclette on top of the bread, followed by bacon, then spinach, then raclette. Top with the other slice, Dijon side down.
Place a heavy bottomed sauté pan or bacon weight on top of the sandwich while cooking.
Cook over low heat. When the first side is golden brown, flip and repeat. Cut in half and serve.