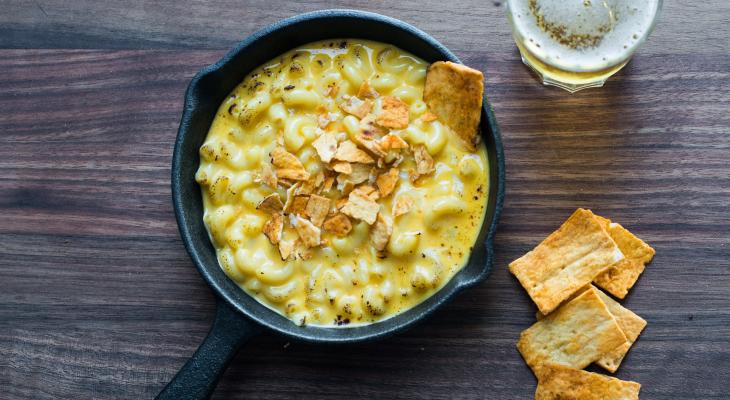 This wonderfully rich macaroni and cheese recipe is brought over the top with the addition of our flatbread crisps.
Ingredients
6 Tablespoons unsalted butter
1 Bag of your favorite flavor of La Brea Bakery Flatbread Crisps
5 1/2 Cups milk
1/2 Cup all-purpose flour
2 Teaspoons salt
1/4 Teaspoon freshly grated nutmeg
1/4 Teaspoon freshly ground black pepper
4 1/2 Cups grated sharp cheddar cheese (about 18 ounces)
2 Cups grated Gruyere cheese (about 8 ounces)
1 Pound elbow macaroni (or other small pasta shape)
Preparation
In a large pot, bring water to a boil. Add macaroni and cook to al dente. Drain in a colander and run under cold water to stop cooking. Set aside.
Using the same pot, heat milk under medium heat. In a cast iron skillet, melt 6 tablespoons butter over medium heat. When butter bubbles, add flour. Cook the flour by whisking until you achieve a light roux.
While whisking, slowly pour in hot milk. Continue whisking, your roux will start to thicken the milk.
Remove skillet from heat. Add salt, nutmeg, black pepper, and cheeses. Stir in the reserved macaroni into the sauce.
Serve hot and garnish with crushed La Brea Bakery Flatbread Crisps to your liking.