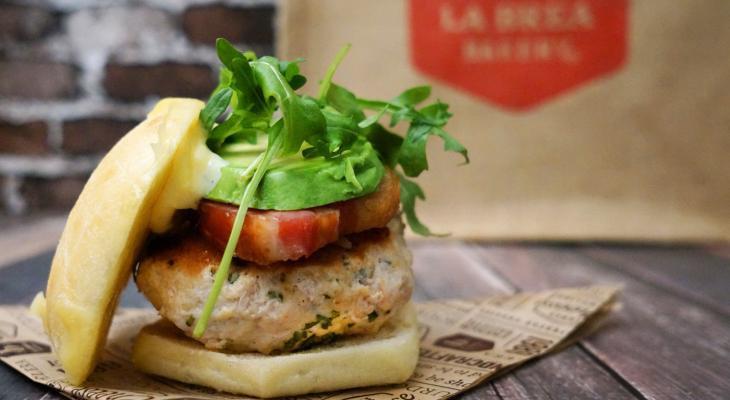 A perfect choice for lunch!
Ingredients
4 Slices of Bacon, cut in half
½ Cup Light Brown Sugar
1 lb. Ground Chicken
1 lb. Ground Turkey
2 Cloves of French Garlic, Finely Chopped
1 Tbsp. Fresh Rosemary, Finely Chopped
¾ Tbsp. Fresh Thyme, Finely Chopped
Fine sea salt
Black Pepper
Vegetable Oil
6 Tbsp. Mayonnaise
¼ tsp. Lemon Zest
1 Clove Fresh Garlic, Grated
1 Tbsp. Truffle Oil
6 Slices Swiss Cheese
1 Oz. Arugula
½ Avocado Cut Horizontally into 6 Rings
Preparation
Preheat your oven to 400°. Pour your sugar into your medium mixing bowl. One by one, coat your slices of bacon into your sugar by tossing them around in your bowl. Line them on your wire rack. Bake till 160°—about 10 minutes.
In your large mixing bowl, combine your chicken, turkey, rosemary, thyme, garlic, salt and pepper. Using your hands, mix it all together until your ingredients are evenly combined. Still using your hands, make six burger patties. Over medium-high heat, coat your grill pan with your vegetable oil. Once your oil is hot, put your patties on your grill pan making sure that once you place them, you leave them untouched. You're oil is hot enough when your patties sizzle frantically when touching it. Cook for 6 minutes on each side—make sure to test with your thermometer, your burgers should be 165°.
Turn your oven to 250°. Cut your La Brea Bakery Telera Sliders in half and place them cut side up on your baking sheet. Lay your Swiss cheese slices on the cut side of the top of your sandwich. Bake for 4 minutes—or till your cheese is melted and your bread toasted.
Place the bottom half of your La Brea Bakery Telera Sliders on the plate you plan to serve them on. Place your burger patty on top. Layer on your slice of avocado. Add on a pinch of your arugula. Spread your aioli on the cheesy side of the top piece of your La Brea Bakery Telera Sliders. Close your burger with the your cheesy aioli covered bread. Serve!
Recipe adapted from Coffee and Champagne