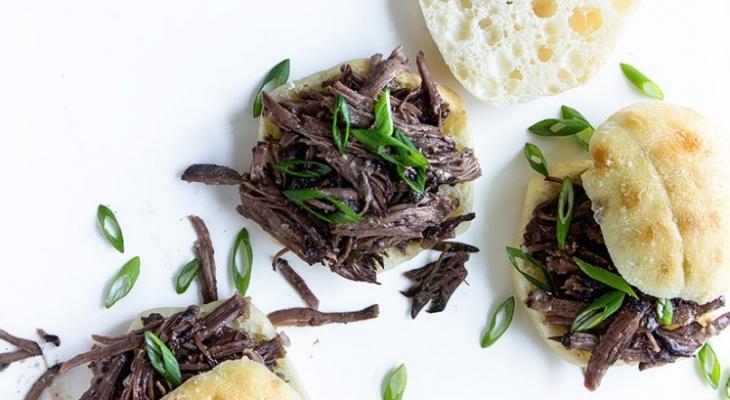 These delicious sliders are brought to you by Real Food by Dad.
Ingredients
2 ½ lbs. Bone-in beef short ribs
1 Tbsp. Kosher salt
1 Tbsp. Black Pepper
3 Tbsp. Onions
1 Large Red Onion
6 Medium Carrot
3 Stalks Celery
¼ cups Celery Leaves from celery heart
25 gr. Flour
1 Tbsp. Tomato Paste
1 Tbsp. Teriyaki Sauce
12 oz. Dark Beer
8 sprigs Fresh Thyme
5 sprigs Oregano
2 Sprigs Rosemary
3 leaves Fresh Bay
1 cloves Garlic, peeled
4 cups Beef stock
Preparation
Heat oven to 350°. Sprinkle salt and pepper over short ribs on all sides. Heat oil in a large Dutch oven over medium-high heat. Brown short ribs on all sides, about 12 minutes. Transfer short ribs to a plate.
Add onions, carrots, celery and celery leaves to pot and cook over medium-high heat, stirring often, until onions are browned, about 5 minutes. Add flour, tomato and teriyaki sauce; cook, stirring constantly, until well combined and deep red, about 2-3 minutes. Stir in wine, then add short ribs with any accumulated juices. Bring to a boil; lower heat to medium and simmer until wine is reduced by half, about 25 minutes. Add all herbs to pot along with garlic. Stir in stock. Bring to a boil, cover, and transfer to oven.
Cook until short ribs are tender, about 2–2½ hours. Transfer short ribs to a platter and let cool enough to handle and shred. Strain sauce from pot into a measuring cup. Spoon fat from surface of sauce and discard; season sauce to taste with salt and pepper. Layer bread with shredded meat and serve with sauce on the side.
Recipe adapted from Real Food By Dad.