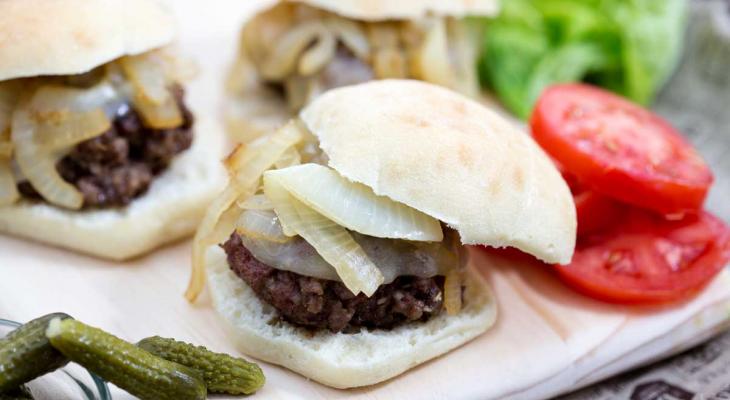 A delicious take on the classic hamburger slider.
Ingredients
2 Large Sweet Onion
2 lb. Ground Beef
Preparation
Prepare your slider buns according to package directions, slice, and set aside
Slice onion and put in a heavy bottom pot with water, and turn on to a medium high heat, cover with lid, and let cook until fragrant. Remove lid, stir, and continue cooking until a beautiful golden brown starts to form (5-6 minutes), remove from heat and set aside
Preheat oven to broil on high.
Mix ground beef, onion powder, onion flakes, pepper, and garlic powder together, and form meat into 8 slider patties. Should be ½-3/4 inch thick and a couple inches in diameter.
In a fry pan melt your butter over medium to medium-high heat, and then sear your patties on each side. Turn the heat down, and cook for another 2-3 minutes until patties are cooked through (internal temp of 155-160).
On a baking sheet, assemble sliders by putting the bun down, the patty, the cheese, and the onion. Lay the other side of the bun face up.
Broil for 2-3 minutes until cheese melts and buns crisps a bit.
Serve with lettuce, tomato, and other toppers.
Recipe adapted from Eazy Peazy Mealz