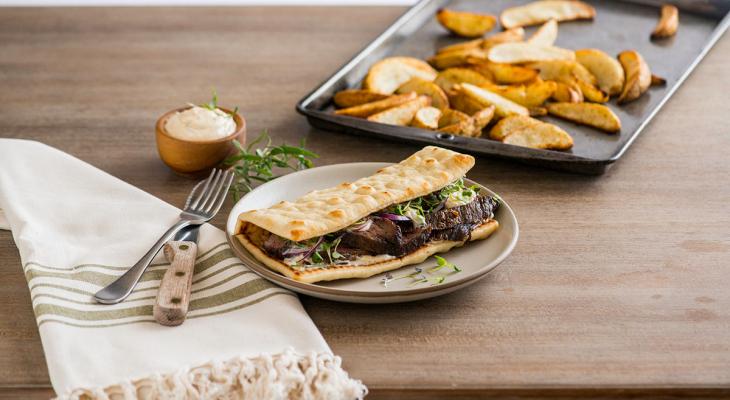 This is your new favorite steak sandwich on our easily folded sandwich flatbread.
Ingredients
1 Hanger Steak (6 ounces)
¼ Red Onion Sliced
¾ cup Micro-Greens
Salt & Pepper to taste
½ Cups Mayo
¼ cups Chopped Tarragon
¼ tsp. Miso Paste
2 Drops White Vinegar
1 tsp. Water
Preparation
Preheat grill or broiler
Season steak with salt and pepper and place on grill or in broiler. Let cook for 4 minutes then flip over and cook an additional 4 minutes for medium rare.
Remove and let rest for 5 minutes. Cut the steak against grain into thick slices.
To make the Tarragon-Miso Aioli, combine all ingredients in bowl and mix together until smooth.
Slightly warm La Brea Sandwich Flatbread in oven. Spread Tarragon-Miso Aioli evenly on the smooth side of each piece of bread.
Place steak on one half of flatbread. Add red onion and micro greens on top of steak. Fold top of flatbread over, making it into a sandwich and serve.