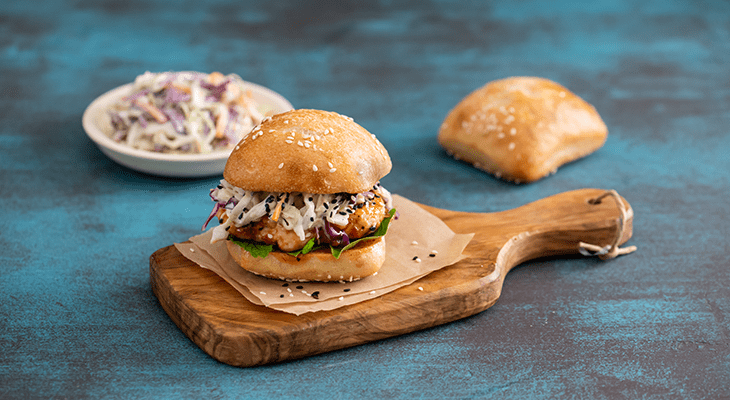 Sticky Asian Turkey Sliders
Ingredients
1 roll cut in half and toasted
3oz ground turkey meat
1 tsp honey
1/2 tsp Sriracha
1/2 tsp sesame oil divided
1/4 cup lime
1 cup shredded cabbage
1/2 tsp black sesame seeds
1 Tbsp mayonnaise
4 mint leaves
4 Thai basil leaves
Salt and pepper
Preparation
Set oven to 350 degrees and bake rolls for 5-7 minutes.  Remove and let cool.
Set oven to broil to cook burger.
To make the glaze, combine Sriracha, honey sesame oil in a bowl and mix to combine. Set aside.
Form turkey meat into 3oz patty and season with salt and pepper.  Please on a sheet pan and broil on one side for 2 minutes.  Flip over and broil for another 2-3 minutes or until turkey is fully cooked. Brush glaze all over burgers while still warm.
For the slaw, combined remaining sesame oil, lime, mayonnaise in a large bowl.  Add the cabbage, sesame seeds and herbs then mix until cabbage is will coated, Set aside 
To build burger, slice roll in half and place on a flat surface. Place patty on the bottom bun, add a heaping Tbsp of slaw, top with bun and serve.