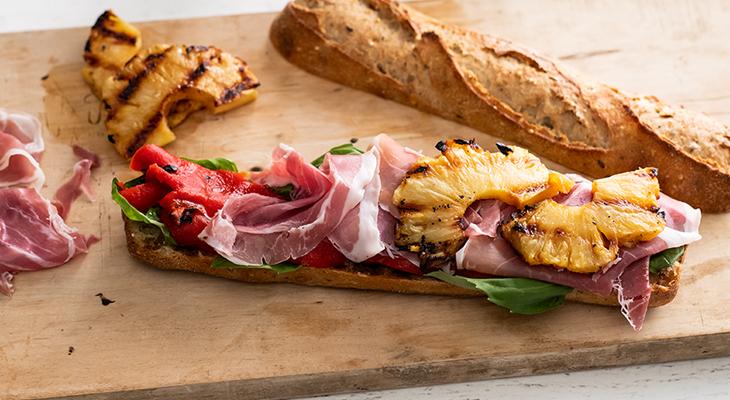 Ingredients
1 Take & Bake Ancient Grain Baguette
3 Oz. Prosciutto
3 Roasted Red Peppers (jar)
 2 Pineapple Rings, sliced ½ thick
6 Medium Basil leaves
 1 Tbsp Olive Oil
 2 Tbsp Balsamic Vinegar
Preparation
1. Set outdoor grill or stovetop grill pan to medium heat.  
2. Slice baguette in half lengthwise and brush with olive oil.  Place on the grill until just lightly browned.
3. Brush Pineapple with olive oil and grill until just starting to soften. Take both off the grill as set aside.
4. To build the sandwich, but both pieces of baguette on a flat surface. Drizzle balsamic on the bottom pieces of baguette. Next, layer Basil and Roasted Red peppers. Add the prosciutto and then the grilled Pineapple. Drizzle with remaining Balsamic vinegar and top with the Baguette.  Cut in half and enjoy.