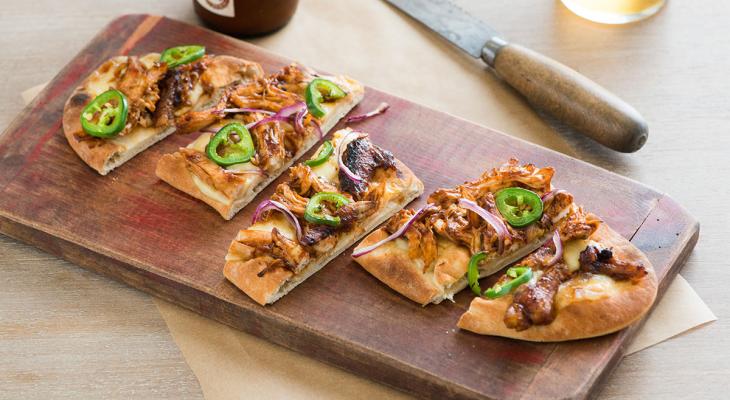 Sweet and spicy combo on our Original Naan. Simply delicious!
Ingredients
4 oz. Roasted Chicken Breast
4 oz. Smoked Mozzarella Cheese
¼ Red Onion sliced
½ Jalapeno Pepper sliced into rings (6 slices)
½ cups Memphis Style BBQ sauce
Preparation
Preheat oven to 350 degrees.
Pull chicken breast apart by hand into bite size pieces and place into a small bowl. Add ½ cup of Memphis style BBQ sauce and mix to coat all the pulled chicken evenly.
Warm Naan slightly in oven.
Remove from oven, let cool slightly then top with smoked mozzarella and pulled chicken evenly across entire Naan. Add red onion and jalapeno peppers. Place on a baking sheet and put in oven to bake for 5-7 minutes or until cheese is completely melted.
Remove, cut into 4 pieces. Serve.