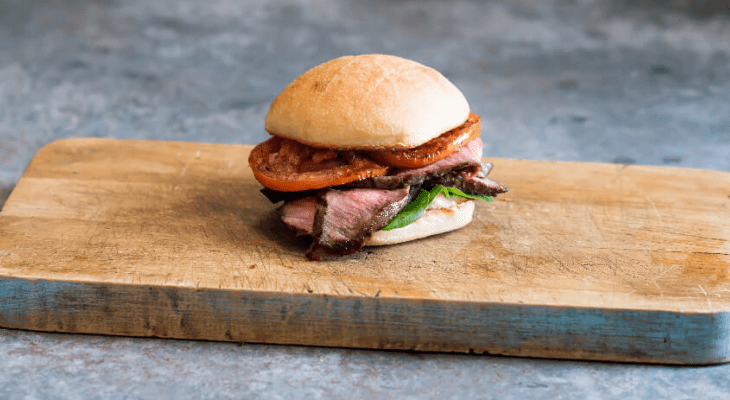 This Tri Tip steak sliders recipe creates a decadent, two serving dish on a tasty Telera Roll from La Brea Bakery.
Ingredients
1 ½ Pound Tri Tip Steak
2 tablespoons Olive Oil
1 to taste Kosher salt and Fresh Ground Pepper
16 Sprigs Watercress, Half the Stems Removed
2 x Roma tomatoes
1 To Taste Oil, for brushing
4 pound Blue Cheese, crumbled
1 cups Olive Oil
1 x Egg Yolks
1 cup Lemon Juice
1 x Freshly Cracked Black Pepper, to taste
Preparation
Begin by coating the meat with olive oil and a generous layer of salt and pepper, let sit uncovered for 20 minutes. Set your grill to medium high heat. Place the meat on the grill and cook for 6 minutes, rotating 90 degrees after 3 minutes. Flip the Tri Tip over and continue to cook for another 6 minutes, rotating 90 degrees after 3 minutes. Check that temperature reaches 120 degrees using a meat probe thermometer. Remove the steak and place on a sheet tray lined with a cooling rack, put it in refrigerator and allow to cool down completely.
For the aioli, using a food processer, fitted with the blade attachment, place cheese, egg yolk, and lemon juice. Turn processer on its lowest setting and slowly drizzle in the oil, season with pepper. Remove aioli to a food safe container, cover and place in the refrigerator until needed.
Using a manual meat slicer, set to ¼ inch thickness, slice the meat against the grain and portion to 3oz portions.
For the assembly of the sandwich, brush inner surface of the Telera Slider Roll with olive oil and toast on grill until a light char appears and bread begins to soften up. Next, place the roll, toasted side up, lay half the watercress evenly over the bottom portions of the bread, followed by 2 slices of tomato. Put your 3oz portion of Tri Tip and top with a dollop of blue cheese aioli. Cover with top portion of roll. Serve immediately.