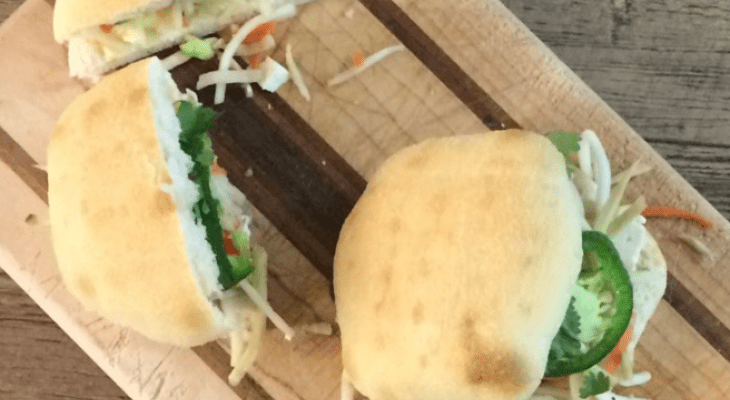 This Banh Mi recipe creates a delicious, two serving vegetarian dish featuring a tasty Telera Roll from La Brea Bakery.
Ingredients
2 cups Carrot-Broccoli Slaw, pickled
2 cups Carrot-Broccoli Slaw, pickled
1 tablespoons Butter
1 tablespoons Kosher salt
1 teaspoon Ground Black Pepper
1 Handful Small Cilantro, torn
1 piece Jalapeño, Sliced Thin
2 Tablespoons Vegetarian Pâté
4 slices Firm Tofu
1 piece Pickled Ginger and/or Kimchi for Garnish
Preparation
Slice and lightly toast both sliders until golden brown.
Spread butter on the inside of one of each of the sliders and the vegetable pâté on the insides of the remaining two halves.
Layer in the tofu, jalapeño, cilantro and pickled slaw
Sprinkle with salt and pepper to taste, add garnish (optional). Serve immediately.