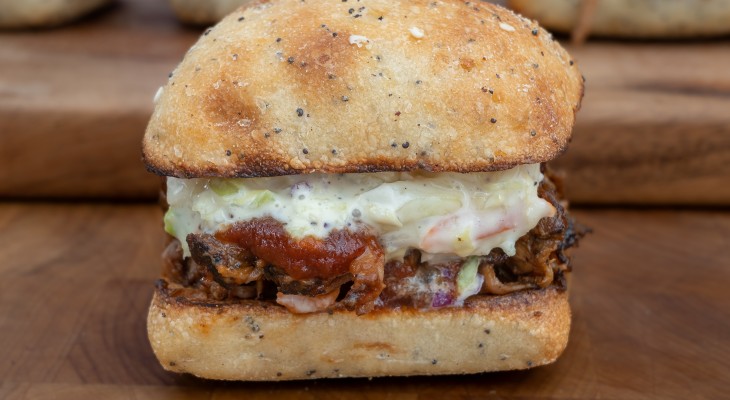 Recipe by Mark Anderson and Ryan Fey - Grill Dads for La Brea Bakery
Ingredients
For the pork and sandwich
1 ½ pounds boneless pork shoulder 
The Grill Dads Salt Pepper + Three Chiles Spice blend 
6 La Brea Bakery Take-and-Bake Everything Rolls 
For the Root Beer BBQ Sauce 
2 cup ketchup 
1 cup root beer 
2 tablespoons apple cider vinegar 
1 tablespoon molasses 
Kosher salt, for seasoning 
Freshly ground black pepper, for seasoning 
For the mustard slaw 
1 large egg 
1 tablespoon lemon juice 
1 teaspoon dijon mustard 
Kosher salt, for seasoning 
Freshly ground black pepper, for seasoning 
1 cup vegetable oil 
1 (16-ounce) bag tri-color coleslaw cabbage mix 
2 tablespoons apple cider vinegar 
3 tablespoons honey mustard 
1 teaspoon celery seed 
 
Preparation
Pat the pork shoulder dry and season all over with The Grill Dads Salt Pepper + Three Chiles seasoning. You can dry brine overnight, uncovered in the fridge or tightly wrapped in plastic – just remember to turn your wrapped collar about halfway through brining, if it is wrapped.
You can make the BBQ sauce the day before or while the pork shoulder smokes. Combine the ketchup, root beer, vinegar and molasses in a medium saucepan. Bring to a simmer over medium-high heat. Reduce the heat to low and simmer until thickened, about 30 minutes. Season with salt and pepper and set aside to cool. 
Remove the pork shoulder from the fridge. Set a smoker to low heat, about 300 degrees F. Add the pork directly to the smoker and cook low and low until it hits an internal temperature close to 200 degrees F, this will take 4 to 5 hours. Remove the smoker from the smoker, cool it for 10 minutes and wrap tightly in butcher paper to rest for 45 minutes while you prep the Honey Mustard Coleslaw. 
Make the mayo for the slaw by combining the egg, lemon juice, mustard, and oil in a carafe or jar that fits an immersion blender. Season the mixture with a pinch of salt and a few grinds of black pepper. Use the immersion blender to process the mixture for about 1 minute or until thick. 
Add the mayo to a mix bowl and add the coleslaw mix. Add the vinegar, mustard and celery seeds. Toss the slaw together and then taste. Add more salt or pepper as desired. 
Use gloves hands to pull apart the pork and toss with about a cup of the BBQ sauce. 
Slice La Brea Bakery Take-and-Bake Everything Rolls in half and brush with vegetable oil. Grill for 2 minutes on the cut side. 
Build the sandwiches with some of the pulled pork, BBQ sauce, and slaw on each bun.