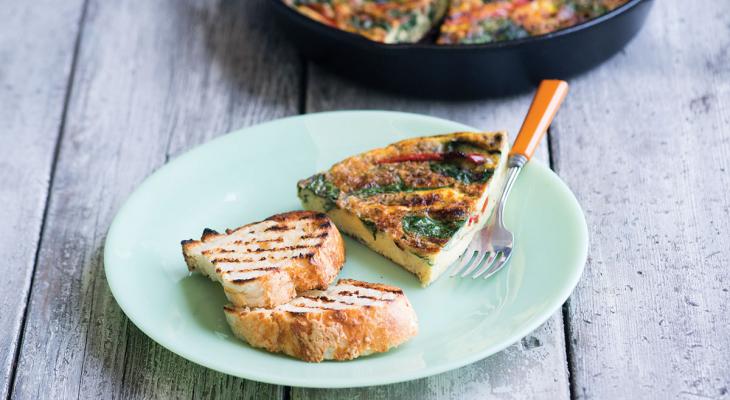 A garden fresh veggie frittata makes for a perfect no-fuss brunch. This one is loaded with spinach, Gruyere, and roasted red peppers.
Ingredients
1 x La Brea Bakery Three Cheese Semolina cut into 1" slices
10 x Eggs
1 x Pinch of kosher salt
1 x Freshly ground black pepper
2 teaspoons Chopped Fresh Oregano
½ Cup Shredded Gruyere Cheese
2 ½ tablespoons Olive Oil
1 x Large Red Bell Pepper (cored, seeded and sliced into 1/4" strips)
1 ½ x Firmly Packed Baby Spinach
Preparation
In a large bowl, whisk together the eggs and lightly season with salt and pepper.
Fold in the 2 teaspoons of oregano and the 1/2 cup cheese. Set aside.
Put cast iron skillet on the grill over medium heat.
Add 2 tablespoons of olive oil and add the bell pepper, stirring occasionally until tender, 8 to 10 minutes.
Add the spinach, stirring occasionally, until wilted (about 2 minutes).
Add the egg mixture to the skillet stirring to evenly distribute with vegetables.
Cover the grill and let the eggs and vegetables cook for 4-6 minutes checking over 2 minutes to ensure the top does not burn (place foil on top of skillet if eggs start to brown too quickly).
While the frittata is cooking, grill the bread slices and place one slice on each plate.
Slide the frittata onto a cutting board and garnish with oregano and cheese.
Slice and serve 1 piece on top of each slice of bread.