Super tender and tasty meatballs braised in a tomato-y sauce topped off with melty cheese in a toasty baguette.
Recipe and images by: i am a food blog
Ingredients
Meatballs
3 cups bread cut into small cubes (see notes)
1 cup milk
1 lb ground beef
3 eggs
3 cloves garlic
3/4 cups grated parmesan cheese
2 tablespoons finely chopped flat leaf parsley
1/2 teaspoon kosher salt
1/2 teaspoon freshly ground black pepper
4-5 cups of your favorite basic tomato sauce
For the subs
4 meatballs and sauce (see above recipe)
2-4 slices low moisture fresh mozzarella cheese
grated parmesan, to taste
Preparation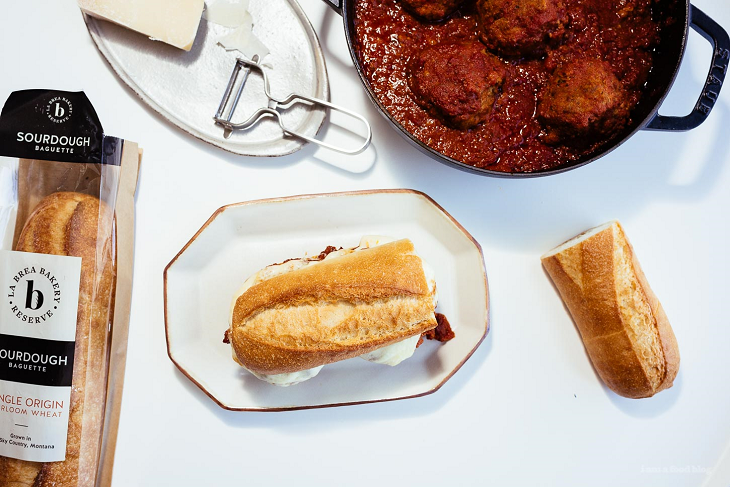 Heat the oven to 400°F.
In a large skillet or saucepan with a lid, heat up your tomato/marinara sauce over medium low heat.
Place the bread cubes in a bowl and cover with milk, tossing so that all the cubes are saturated. After 1-2 minutes the bread should be soggy and wet. Using your hands, squeeze out as much milk as possible. Use your fingertips to break up the bread into very small breadcrumbs.
In a large bowl, mix together the bread, ground beef, eggs, garlic, parmesan, flat leaf parsley, salt, and freshly ground pepper. You want to mix everything so that it's homogenous, but loose – don't work the meatball mixture too much.
By this time your sauce should be simmering with several bubbles breaking the surface. Form large meatballs (I made 7 big ones) and drop them directly into the sauce. Simmer in the sauce, partially covered, over medium heat, flipping occasionally. Simmer gently until cooked through, about 25-30 minutes. 
Cut the baguette in half so you'll have two sandwiches, then cut lengthwise. Top both sides of the baguette with a generous amount of sauce and a bit of grated parmesan. Place the meatballs on the bottom baguette and top with slices of mozzarella and some more parmesan.
Bake until the cheese is gooey and melted. Place the top half of the sandwich on top of the meatballs and enjoy!
*Notes: For my bread cubes, I trimmed the crust then cut up one demi-baguette.