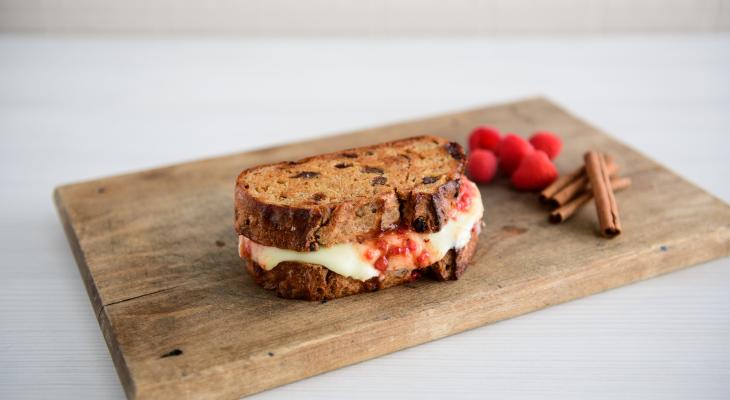 Ingredients
1 Cinnamon Raisin Loaf
3 oz Brie Cheese
1 Tbsp Softened Butter
1 cup Fresh Raspberries
½  tsp Lemon Juice
1 tsp Cinnamon
1 tsp Spiceology Raspberry-Chipotle Spice Blend
1 Tbsp Water
Preparation

1. Cut bread into slices about 1 ½ inches thick. 
2. Butter one side of each slice and place butter-side down on a cutting board.  
3. Add the Brie cheese and then spoon over Raspberry Chipotle sauce. 
4. Top with remaining piece of bread, making sure the butter is on the outside. 
5. Place the sandwich in a non-stick pan and put over medium-low heat. The key is to let the outside brown slowly so the cheese inside melts.  
6. When the bottom is golden brown, press the sandwich down with a spatula and flip to brown the other side. When the second side is golden, and the cheese is soft, remove from heat and let rest for 2-3 minutes. 
7. Serve with extra sauce on the side and enjoy,
 
How to Make Raspberry Chipotle Sauce:
 
1. Put raspberries and water in a saucepan, mash the ingredients with a fork and let it cook down until it is a jam -like consistency. 
2. When finished, turn off the heat and add the Spiceology blend, lemon juice and cinnamon.  
3. Set aside for later.