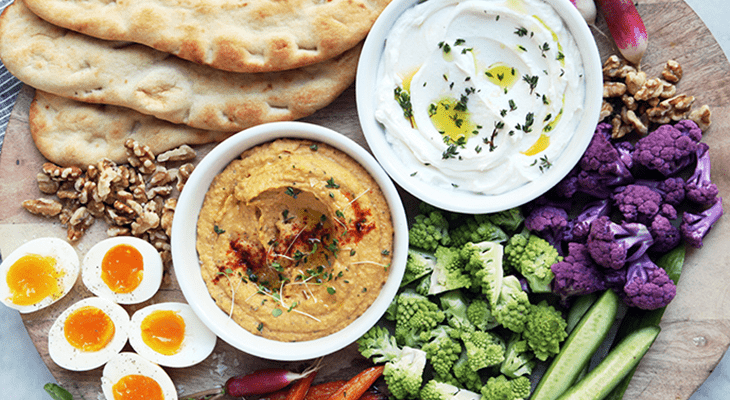 This mezze platter is perfect to get your day started or for a healthy afternoon snack full of great flavors.
Ingredients
For the Butternut Squash Hummus:

½ butternut squash, seeded

1 teaspoon olive oil

salt and freshly ground pepper

2 cloves garlic, peeled and minced

1 lemon, juiced

1 15-ounce can chickpeas, drained

1/3 cup tahini

3 tablespoons olive oil

2 tablespoons fresh parsley leaves, plus more for garnish

¼ teaspoons ground cinnamon

½ teaspoon ground cumin

smoked paprika, for garnish

For the Mezze Platter:

Greek yogurt

thyme

flaky sea salt

olive oil, for drizzling

seasonal vegetables, for dipping

6 soft-boiled eggs, halved
Preparation
Recipe and images by: The Jewels of New York
Make the Butternut Squash Hummus:
Preheat oven to 400 degrees. Rub the squash, inside and out, with a teaspoon of olive oil and season with salt and pepper. Place cut-side down on a foil-lined baking sheet, roast until a fork poked into the non-hollow end of the squash slides in easily, about 45 minutes. Let it sit until the squash is cool enough to handle.
Scoop out the flesh of the squash half and add 1 cup to the bowl of a food processor. Reserve the rest for another use. In a food processor add squash, minced garlic, lemon juice, chickpeas, tahini, olive oil, parsley, cinnamon and cumin. Purée until creamy and smooth, scraping down sides as needed and adding more olive oil if it's too thick. Season with salt and pepper to taste. Transfer to a bowl and finish with additional parsley and a sprinkling of paprika. 
Make the Mezze Platter:
Place Greek yogurt in a bowl and drizzle with olive oil, herbs and flaky sea salt. Place vegetables, soft-boiled eggs and flatbread on a platter and serve alongside dips.