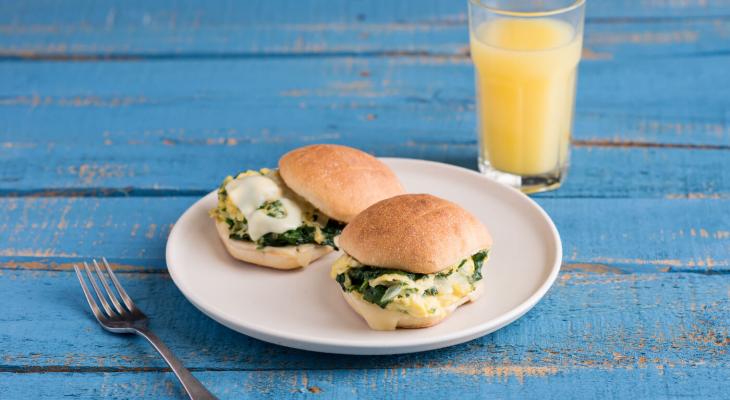 Start your day off right with these yummy breakfast sliders!
Ingredients
2 Extra-Large Eggs
1 oz. Fresh Spinach, stems removed, rough chopped
2 slices Swiss cheese
½ tsp. Olive Oil
1 lb. Ground Sirloin
1 Tbsp. White Onion
1 tsp. Fresh Parsley, chopped
1 tsp. Lemon Zest
Preparation
Start by cracking the eggs into a small mixing bowl, whisk together until well combined, set aside.
Over medium heat, add 1 tsp. olive oil and the diced onions into a medium size non-stick pan. Begin to sweat the onions until they start to turn translucent.
Next, add chopped spinach and gently wilt, about 30 seconds.
Continue by slowly adding in the eggs, lemon zest and parsley. Stir regularly with a rubber spatula until the eggs start to firm up. Season to taste.
Meanwhile, with the remaining olive oil, lightly brush the inner sides of the Telera rolls and toast on a preheated medium-high grill, until a light char forms and the rolls begin to soften up.
Start assembling the sliders by laying out the bread, toasted side up, and placing half a slice of Swiss cheese on each slice of bread. Divide your scrambled egg and spinach mixture evenly onto each bottom portion of the roll, place top portion of roll over eggs, and serve immediately.