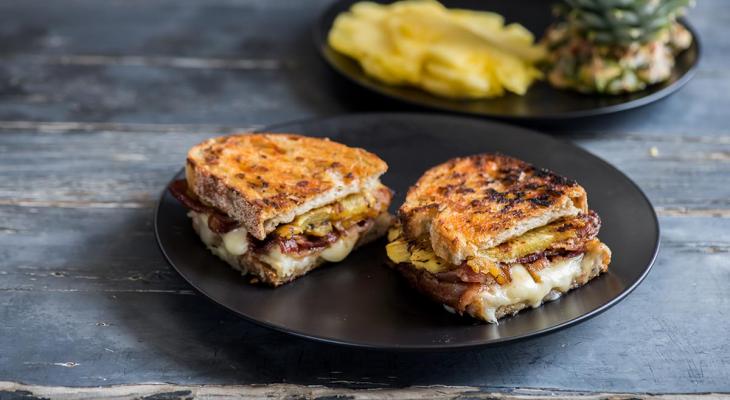 Island Flavors and smoky bacon blend together on one of our favorite La Brea Bakery loaves.
Ingredients
1 Tablespoons Soft Butter Mixed with 1 tsp of Sriracha
4 slices Muenster Cheese, sliced
2 x Grilled Pineapple, thin slices
2 Slices Thick-Cut Cooked Bacon
Preparation
Place a medium cast iron skillet or similar over medium-low heat and preheat the pan for 2 minutes while you assemble the sandwich.
Butter each slice of bread on one side and lay the bread out on your cutting board butter side down.
Place two slices of Muenster on each piece of bread add bacon and pineapple slices and top with the remaining bread slice.
Carefully transfer the sandwiches to the preheated pan and cook over medium-low heat for 3 minutes per side or until bread is golden brown and cheese has melted.
Cut and serve.