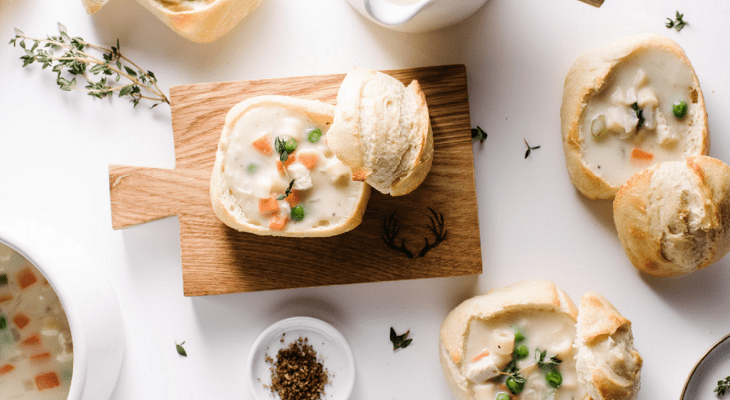 This creamy chicken soup is the perfect fix for a cold day outside, served up in a tasty French Dinner Roll bread bowl.
Ingredients
1 Tbsp Butter
1/3 cup Onion, Diced
1/3 cup Carrots, Diced
1/3 cup Celery, Diced
1 ½ Tbsp Flour
3 cup Chicken Broth
¼ cup Cream
1 cup Ditalini Noodles, or other small shape
1 Tbsp White Miso, or to taste
1 cup Cooked Chicken, Diced
½ cup Frozen Peas
Salt and Freshly Ground Pepper to taste
x Fresh Thyme, to finish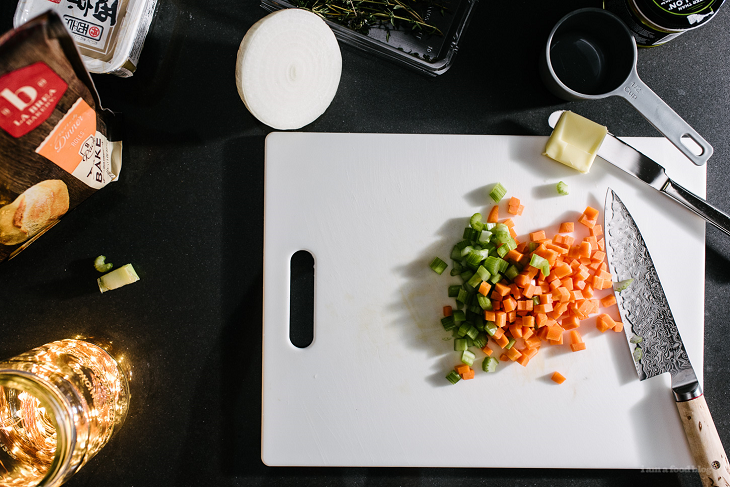 Preparation
Bake the La Brea Bakery French Rolls according to the package instructions.
While the rolls are baking, make the soup. In a pot, heat up the butter over medium high heat.
When butter is melted, add the onion and carrot. Cook, stirring, until slightly soft, 1-2 minutes.
Sprinkle in the flour and stir to incorporate completely.
Pour in the chicken broth in a thin stream and whisk constantly.
Add the noodles and bring to a simmer to cook the pasta, timed according to the instructions on the box.
Stir in cream and then the miso to taste.
Stir in the chicken and peas.
When the peas are warm, about 1 minute, season with salt and freshly ground pepper to taste.
After the rolls are slightly cool, cut them into bread bowls: use a small knife to carefully cut off the top third of the roll. Hollow out the centers and fill with soup.
Garnish with thyme and enjoy!
Recipe by i am a food blog