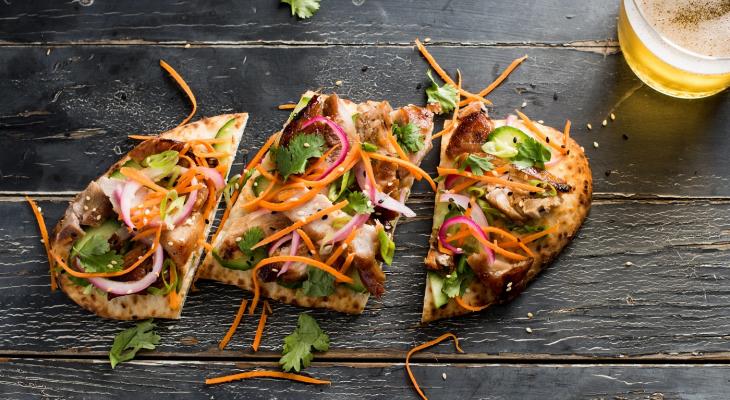 Flatbread with Asian Fusion
Ingredients
½ cup Roasted Pork Tenderloin Pulled or Sliced
¼ ea. Sliced Cucumber
½ Jalapeno Pepper sliced into rings (6 slices)
½ ea. Grated Carrot
¼ cup Pickled Red Onion
¼ cup Soy Sauce
1 tsp. Rice Wine Vinegar
1 Tbsp. Toasted Sesame Oil
1 tsp. Black and White Sesame Seeds Lightly Toasted
¼ cup Chopped Cilantro
Preparation
Preheat oven to 350 degrees.
Vinaigrette: Combine soy sauce, rice wine vinegar, toasted sesame seed oil and whisk together.
In a bowl, combine pork, cucumber, Jalapeno, carrot and red onion, cilantro and set aside.
Slightly warm La Brea Bakery Toasted Sesame Naan in oven.
Remove from oven, let cool slightly then evenly top with the pork mixture. Add sesame seeds and drizzle a teaspoon of vinaigrette over top.
Cut and serve.