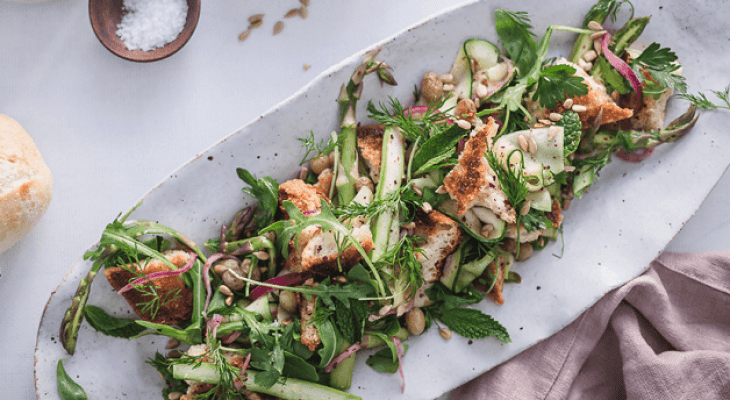 This panzanella is fresh and light with distinct flavors of the new season and a nourishing hearty backbone.
Recipe and images by: Cottage Farm
Ingredients
For the dressing
3 Tbsp lemon juice
2 tsp sumac
1.5 tsp honey
4 tbsp evo
1/4 tsp each salt & pepper
small clove smashed garlic
Pickled red onion
one large red onion, sliced as thinly as possible 
2 tbsp sugar
1 bay leaf
1 tsp salt
3 tbsp red wine vinegar 
Spring Green Bread Salad
8-10 large stalks asparagus, shaved. about 3/4 cup
1 medium zucchini, sliced into thin ribbons. about 2 loose cups
1/2 cup mint, picked
1/2 cup dill, picked
1/2 cup parsley, picked
2 cup baby arugula greens, loosely packed
2 Tbsp, heaped, soaked golden raisins
1/4 cup toasted sunflower seeds
1/4 cup pickled red onion
Preparation
For the pickled red onions
Add a small handful of ice to a clean 16oz jar – then place all the ingredients for the onions into the jar and pack them down with the back of your hand – add enough water to just cover the onions. Invert a few times and let stand one hour, inverting the jar every so often. Use immediately or store in the fridge up to 2 weeks.
For the dressing
In an 8oz lidded jar, place all of the ingredients for the dressing. Tightly screw on the top and shake vigorously over the sink until well blended (can also be made in a bowl, just whisk the olive oil into the other ingredients until fully combined).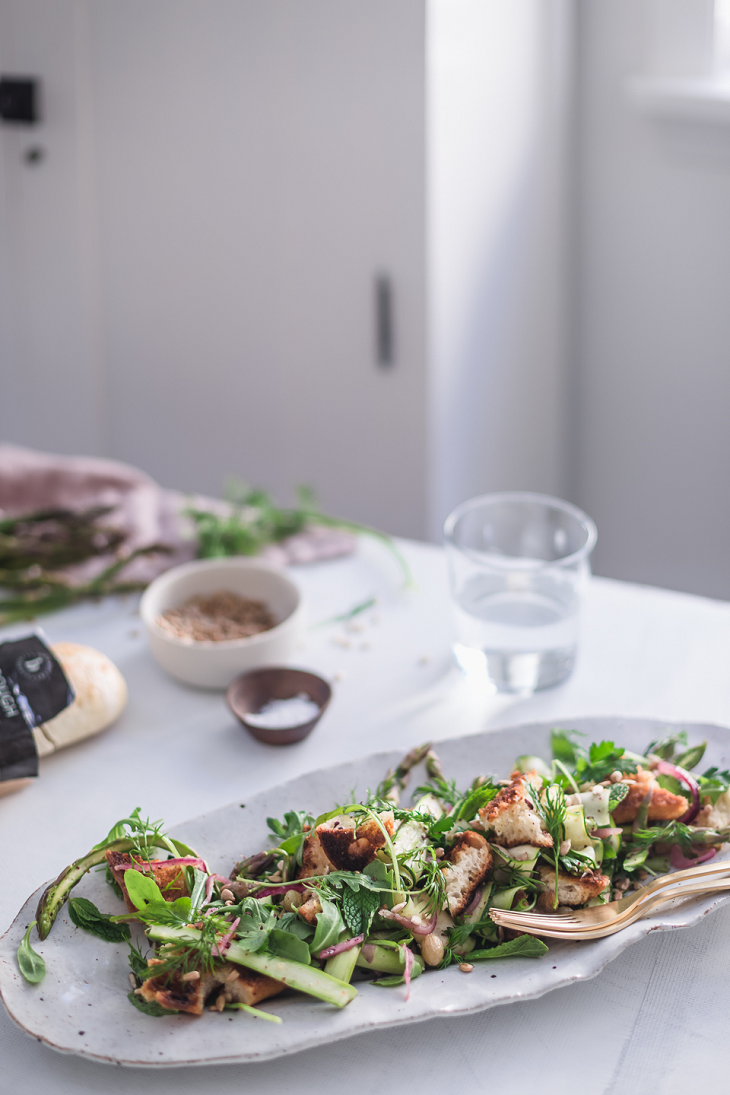 For the Salad
Cut La Brea Bakery Reserve Sourdough Demi-Baguette into half lengthwise, Brush bread all over with 2 tbsp olive oil and sprinkle with just a pinch of salt. place on a parchment lined baking sheet and broil under low heat, turning as needed, until a beautiful deep golden color. Once cool enough to handle, tear into irregular chunks 2-3 inches and smaller. 
While the bread toasts place raisins in a small dish and cover will warm water. Set aside. In a dry skillet, cast iron preferable, over medium low heat, lightly toast sunflower seeds until lightly golden but not burned. 2-3 minutes, so watch them carefully.
Carefully slice or shave using a small knife, mandolin, or vegetable peeler the zucchini and asparagus into thin ribbons.
Place bread chunks at the bottom of a large serving bowl, then add the pickled red onion, asparagus, zucchini and about 1/4 of the dressing. Toss gently to combine and let stand 15 minutes.
Drain golden raisins and add them to the salad along with the arugula, mint, parsley, dill. Pour half the remaining dressing down over the top. Toss gently and taste. Add remaining dressing as desired.
Just before serving add in the toasted sunflower seeds and give everything a good toss again. Garnish with a sprinkle of sumac and a few more herbs if desired.