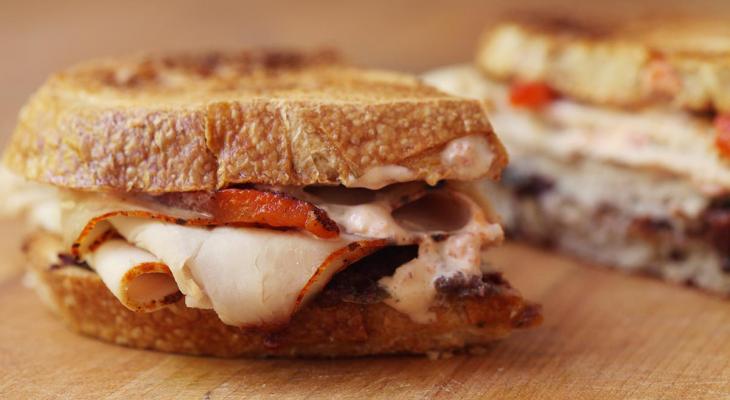 This sandwich has both great textures and delicious flavors.
Ingredients
16 oz. Roast Turkey Slices
½ Cups Mayo
4 oz. Roasted Red Peppers
8 oz. Sliced Monterrey Jack cheese
8 oz. Black Olive Tapenade
Preparation
Set oven to broil. Lightly toast bread while preparing the other ingredients. Add mayonnaise and roasted peppers to food processor and pulse until fairly smooth.
Coarsely chop the tomatoes and combine with the tapenade. Line up four slices on an oven safe sheet pan and spread the tapenade mixture evenly on each of them. Distribute the turkey slices evenly across each slice. Place the cheese slices over the turkey making sure the cheese doesn't hang out past the bread. Place the tray of sandwich bottoms under the broiler until the cheese is melted.
While waiting for the cheese to melt, spread the roasted pepper mayonnaise on the remaining slices.
Remove the sandwich bottoms from the oven and complete the sandwich with the second slice of bread, mayonnaise on the inside.