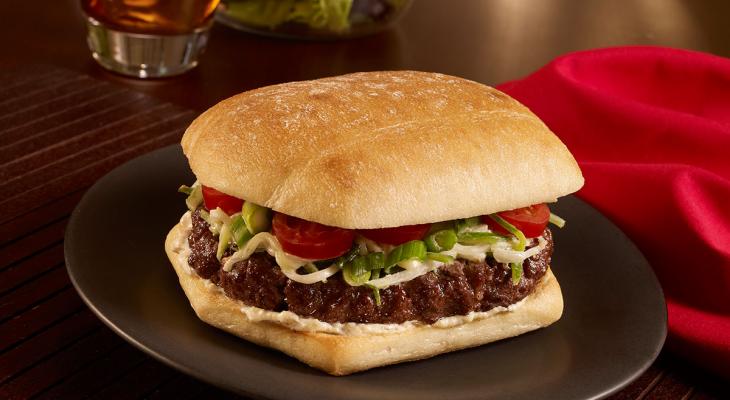 Ingredients
8 Green Onions, trimmed
1/3 cup Seasoned Rice Wine Vinegar
1 ½ Large English Cucumbers
½ cups Mayo
½ cup Yogurt
1 Tbsp. Prepared Wasabi
1 Tbsp. Minced Garlic
1 Tbsp. Shichimi Togarashi spice blend
2 ½ lbs. Ground Beef
1 x Sea Salt
1 x Freshly ground black pepper
12 Cherry Tomatoes
Preparation
Lightly oil and preheat grill. Using only the white and light green part of the green onions, slice into ¼" slices and toss in a bowl with rice wine vinegar. Allow to sit at least 30 minutes.
Seed the cucumber and, using a mandolin slicer, cut on a bias into 1 ½" julienne strips.
In a bowl, combine the mayonnaise, yogurt, wasabi, garlic and Shichimi Togarashi spice blend and mix well. Reserve 1/3 cup wasabi mayonnaise.
Add cucumber to remaining wasabi mayonnaise and toss to coat well. Cover both reserved mayonnaise and cucumber slaw and keep cold.
Being careful not to overwork the meat, shape it into 6 oval patties. Sprinkle both sides of each patty with about ¼ teaspoon sea salt and freshly ground black pepper. Place the patties on the hot grill. Grill until they can be turned without sticking, then turn. For rare, cook about 4 minutes on each side; for medium-rare, 5 minutes on each side; for medium, 6 minutes on each side.
While burgers are grilling, place the rolls, cut side down, on the grill to toast lightly, about 2 minutes. Slice the cherry tomatoes into four slices each and season lightly with salt. Spread bottom of each roll with reserved wasabi mayonnaise and top with burgers. Divide the cucumber slaw, green onions and tomatoes between the burgers. Finish with roll tops and serve.
*Also named 7 Spice Blend, Shichimi Togarashi Spice Blend is available from Japanese and many Asian markets.