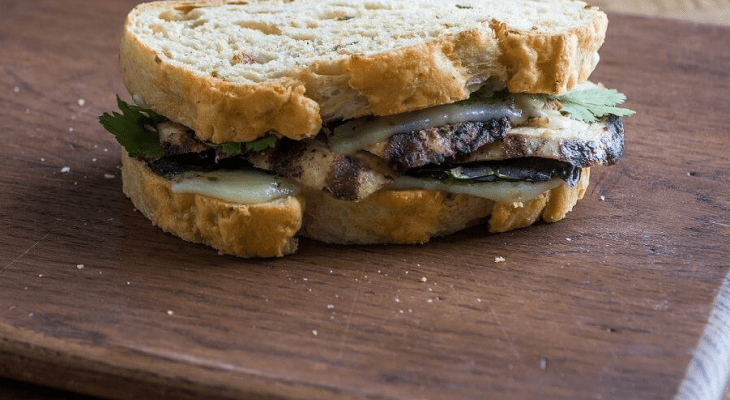 This grilled cheese features authentic Mexican flavors and oozes cheesy goodness, both baked into our Jalapeño Cheddar loaf with melted Monterrey Jack and Cojita cheeses.
Ingredients
3 Tbsp. Salted Butter
4 Chicken Cutlets, Split in Half to Make Them Thinner
½ tsp. Salt
Freshly Ground Black Pepper
2 Tbsp. Olive Oil
2 Green Onion, root ends removed
1 Fresh Poblano Pepper
3 oz. Cotija Cheese, Finely Grated
9 oz. Monterey Jack Cheese, Finely Grated
¼ cups Sour Cream
1 tsp. Lime Juice
1 Tbsp. Cilantro Leaves, Chopped
Preparation
Preheat grill to medium heat.
Preheat broiler.
Season the chicken with salt and a quarter turn of the pepper mill for each cutlet and place in a bowl.
Add the olive oil and toss to coat all the pieces.
Place chicken on grill and cook for 3 minutes. Turn over and continue cooking for another 3 minutes until chicken is cooked through. Remove from grill and set aside.
At the same time, grill the whole Poblano pepper on a separate part of the grill, turning it each time the chicken is turned.
Remove the stem and seeds from the Poblano pepper and cut into 1/4"strips.
Cut the green onions into 1/4" pieces.
Combine the sour cream, cilantro, and lime in a bowl and mix well.
Remove the crust end piece of the Jalapeno Jack bread and cut eight 1/2" thick slices.
Butter one side of each slice and arrange the slices on a cutting board, butter side down.
Mix the Cotija and 5 ounces of Monterey Jack and, using half of this mixture, cover each of the bottoms (4 bread slices) evenly.
Put the green onion and peppers on top of the cheese.
Using a brush, coat each side of the chicken with the sour cream mixture and place one piece of chicken on each cheese-covered bread slice.
Top each chicken cutlet with the remaining cheese mixture, packing the cheese lightly to keep it from falling out and cover with the remaining bread slices, butter side out.
Heat a large non-stick pan over medium heat and place the sandwiches in it.
Cover and cook five minutes and then carefully turn over each sandwich, cover and continue cooking for another five minutes.
Remove cover and turn over each sandwich again and continue cooking, covered, for another 3-4 minutes to make the outside golden and crisp. Turn each sandwich over again and continue cooking, covered for four minutes.
Sprinkle the remaining Monterey Jack on each of the sandwiches and place pan under a broiler briefly to melt the cheese.
Remove the sandwiches from the pan and allow to rest for a few minutes before serving.