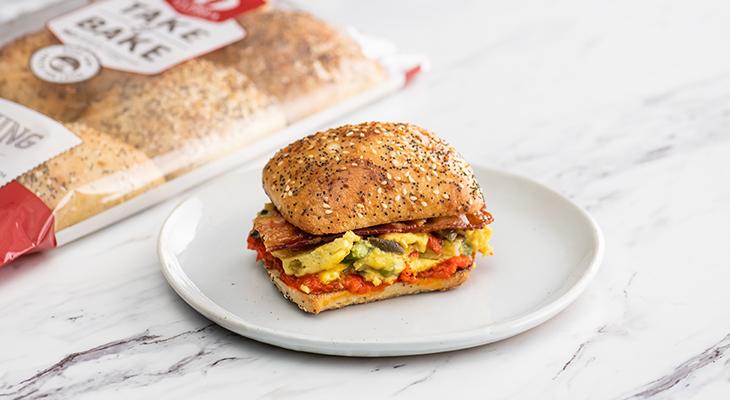 Ingredients
1 Take & Bake Everything Roll
6 large Eggs
½ cup half and half
½ cup shredded Cheddar cheese
Asparagus cooked
Mushrooms cooked
8 Bacon fully cooked
Harissa spread (favorite store bought)
1 Tsp butter softened
Salt and pepper
Preparation
1. Preheat oven to 375 degrees.
2. Crack eggs into a bowl, add half and half and beat until combined.  Add salt & pepper, cheese, mushrooms and asparagus and mix to combine.   Pour mixture into a greased skillet and place in the oven for 25-35 minutes or until the Frittata has risen and is fluffy.  The center should feel firm but still have some give when pressed. Remove and let cool slightly.
3. While the Frittata is cooking, slice the Everything Rolls in half and spread a light coat of butter on each.  Put in the oven to toast for 2-3 minutes until starting to brown.  Take out and set aside.
4. To build the sandwich, place the rolls on a flat surface and spread Harissa to the bottom of each roll. Cut the Frittata into squares and place on top of the Harissa. Add a piece of bacon to each and top with the remaining roll. Serve immediately.