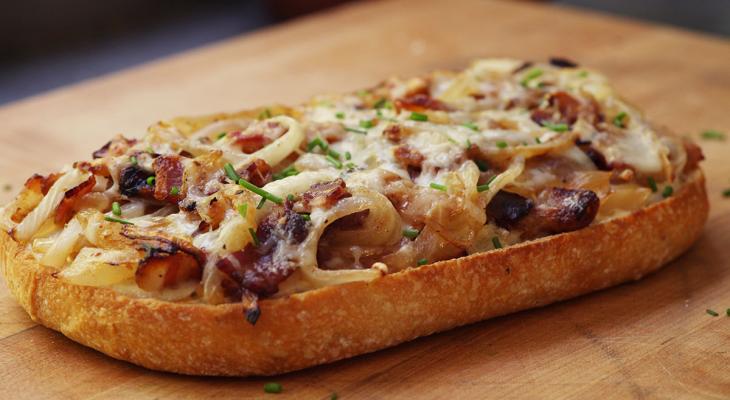 This pizza combines our infused roasted garlic loaf, bacon, and swiss cheese to take you to flavor town.
Ingredients
1 lbs. Sliced Smoked Bacon
2 Large Yellow Onions
8 oz. Shredded Gruyere or Swiss Cheese
½ cups Creme Fraiche (or sour cream if unavailable)
1 tsp. Salt
Freshly ground black pepper
1 bunch Chives, fresh, finely chopped
Preparation
Preheat oven to 375 degrees. Cut the bacon into 1/4" strips. The pieces will be approximately 1'' by 1/4". Peel and halve the onions from core to core and cut out the core at the top. Slice onions into 1/8" thick slices.
Put the bacon inn a large saute pan over medium high heat. Stirring often so the bacon cooks evenly, continue cooking until the bacon starts to brown lightly but has not yet become crispy.
Add the onion slices, salt and pepper and continue cooking, stirring often so the onions on the bottom don't burn, until the onions are tender. While the onions are cooking, split the bread from end to end so there is a top and bottom.
Place both pieces on an oven safe sheet pan, crust side down and place in the oven for approximately five minutes until lightly toasted. Remove bread from oven and spread creme fraiche evenly over the top surface of both pieces. Divide the bacon-onion mixture in half and distribute evenly over both pieces of bread.
Sprinkle the cheese evenly over both pieces, edge to edge. Place pan with the bread back in the oven for 7-8 minutes or until cheese is melted and bubbling.
While waiting for the cheese to melt, finely chop the chives. After removing the bread from the oven, sprinkle with the chopped chives. Remove bread to a cutting board and slice each piece lengthwise once down the middle and side-to-side three times to make eight pieces from each half loaf.