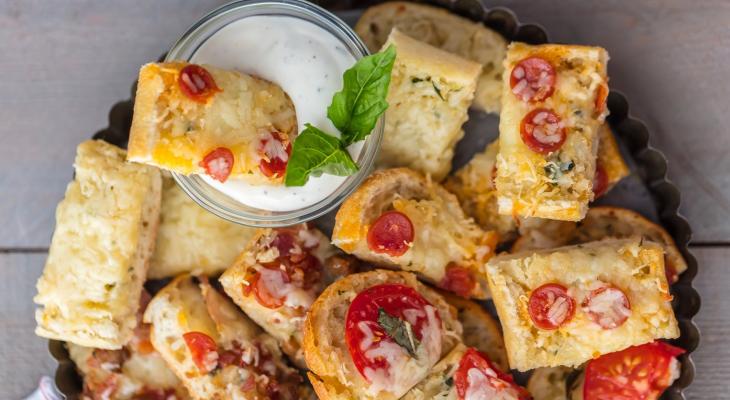 These Garlic Butter French Bread Pizza Bites are an easy and tasty cheesy appetizer loaded with garlic butter, cheese, and your favorite toppings.
Ingredients
2 Tbsp Minced Garlic
4 Tbsp Salted Butter
2 Tbsp Extra Virgin Olive Oil
1 Tbsp Fresh Parsley, Chopped
2 Tbsp Parmesan Cheese, Grated
2 cups Grated Mozzarella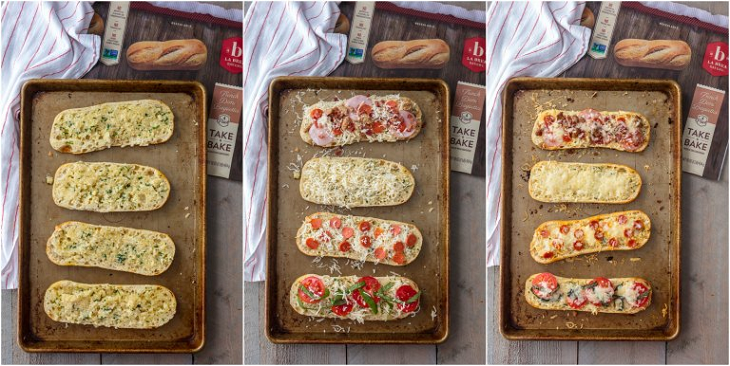 Preparation
Preheat oven to 385F.
Place the La Brea Demi Baguettes directly on the center rack and cook for 9-10 minutes, until just almost done and browned.
Remove bread from the oven and cut with a bread knife length wise. Set the 8 pieces on a large baking sheet and set aside.
In a medium microwave safe bowl, combine the garlic, butter, and olive oil.
Microwave for one minute or until fully melted. Stir to combine.
Stir in the parsley and parmesan.
Brush each cut side of the bread generously with the butter mixture.
Cover each piece of bread with the shredded cheese, and then top with your favorite toppings. Add a bit more cheese on top.
Place back in the oven and bake for 5-7 more minutes, or until the cheese is fully melted and bubbly.
Remove from the oven and cut into slices.
Serve with ranch or marinara sauce for dipping. Enjoy!
Recipe by The Cookie Rookie