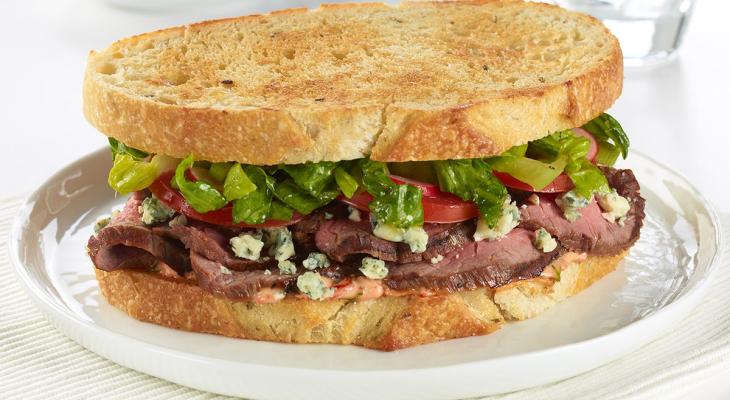 This is a beautiful combination of perfectly grilled tri-tip and blue cheese atop slices of our alluring Rosemary Olive Oil Round.
Ingredients
4 lbs. Grilled Angus Tri Tip
8 oz. Roasted Red Bell Pepper
2 Cups Mayo
¼ cup Chopped Fresh Parsley
6 Green Onion, root ends removed
6 Plum Tomatoes (Roma)
1 lb. Blue Cheese, crumbled
4 cups Shredded Romaine Hearts
½ Cup Olive Oil, Extra Virgin
1 tsp. Sugar
Preparation
Season and grill the beef to the desired doneness and allow to rest before slicing. In food processor, puree peppers and mayonnaise until smooth and add parsley at the very end just to combine.
Slice the green onions (tops and bottoms) into 1/8" thick slices.
Halve the radishes and slice thinly (1/16") and combine with onions.
Cut the tomatoes into six slices each.
Slicing on a bias, cut eight ½" thick slices of bread (remove end crust pieces) and toast lightly.
Arrange half the toasted slices for assembly and spread the red pepper mayonnaise on them, edge to edge.
Slice the beef and divide it among the twelve bread slices.
Sprinkle the crumbled blue cheese over the beef and place the tomato slices on top.
Combine the Olive oil, vinegar, salt, sugar, and pepper and mix well and toss the radish, onions, romaine in this mixture and place on the tomatoes.
Finish with the remaining slice of bread and serve.