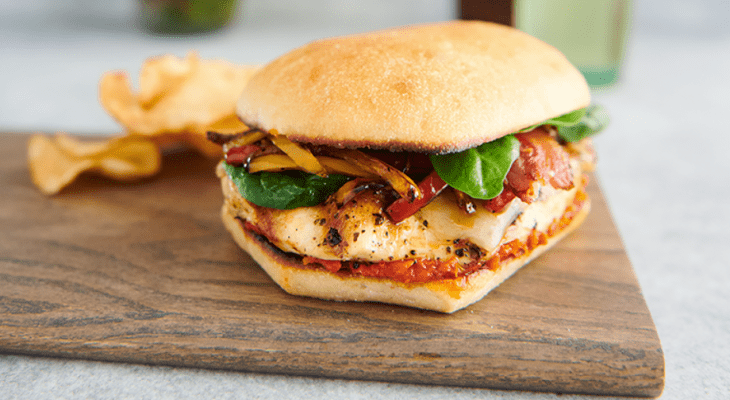 Ingredients
½ cup red and yellow peppers sliced thin
½ cup yellow onion sliced thin 
4 oz. grilled chicken breast 
1 Tbsp Calabrian chili spread
1 Tbsp olive oil 
½ cup fresh baby spinach leaves
Preparation
Preheat a skillet over medium heat. 
Preheat the oven to 350 degrees. 
Pour olive oil into a hot skillet and then add peppers and onions.  Cook, stirring occasionally for about 5-7 minutes, until soft and getting slightly brown. Remove from the pan.
Keeping the pan on the heat, toast the La Brea Bakery Torta Rolls by placing each half crumb side down in the pan for 1-2 minutes until edges are golden brown. Remove from the pan. 
Place the grilled chicken breast on a sheet pan, add cheese and put into the oven to melt. Remove and set aside.
To build the sandwich, spoon Calabrian chili spread on the bottom roll and then top with the chicken. Add the peppers and onions, top with spinach leaves and finish with the top half of the roll. Serve.