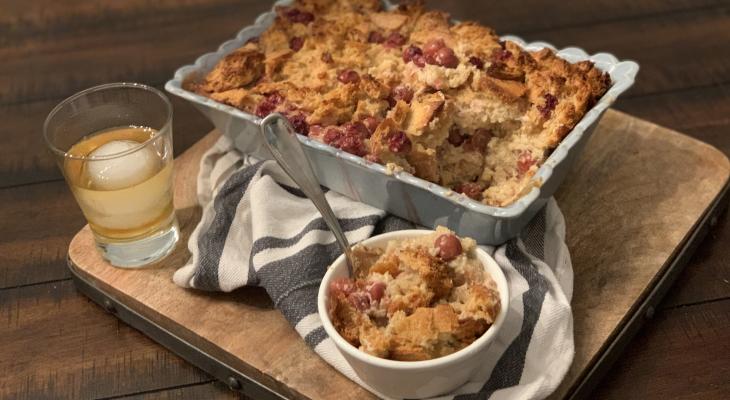 Ingredients
1 Large loaf of stale La Brea Bakery Country White Sourdough Bread, torn into 1/4" cubes
5 large eggs
3 cups whipping cream
1 1/2 cup whole milk
1/2 cup Bourbon*, plus more to soak cherries (optional)
1/2 cup dark brown sugar, packed
1 tsp ground cinnamon
1 tsp ground nutmeg
4 cups pitted dark red cherries (fresh or jarred, drained)
Preparation
*For an extra kick, soak your cherries in 1 cup of bourbon for 30+ minutes.
Preheat the oven to 375 degrees. Grease a 2-quart baking dish with butter and set aside.
In a large bowl, whisk eggs thoroughly, then add cream, milk, and bourbon. Then whisk in brown sugar, cinnamon, and nutmeg.
Strain the cherries and fold into the bread mixture then pour into the greased baking dish.
Place in the oven and bake until puffed and golden brown on the top, about 1 hour. Set aside and cool completely.
Recipe by: Elizabeth Lane