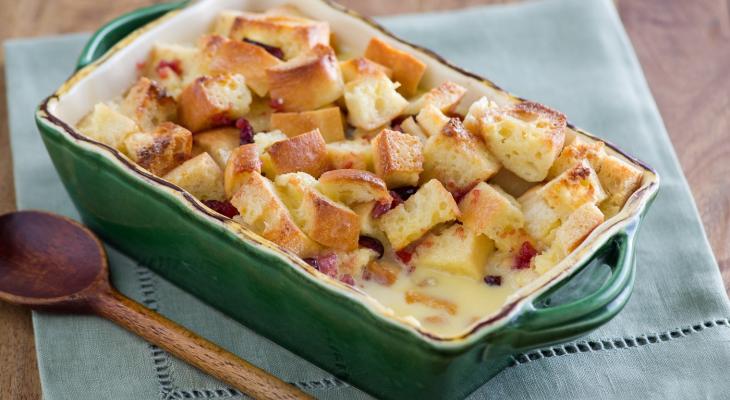 Perfect for the holidays!
Ingredients
½ cup Sugar
6 Egg Yolks
2 Eggs
1 Tbsp. Vanilla Extract
4 cup Heavy Cream
1 cup Whole Milk
12 oz. White Chocolate, Chopped
1 cup Cranberry Sauce or Jelly
Preparation
Preheat oven to 350 F. Place the diced bread on a baking sheet and dry in the oven for 10-15 minutes. They should be dry and lightly toasted but not dark and crunchy.
In a mixing bowl, whisk the sugar, yolks, eggs, and vanilla extract until smooth. Bring the cream and milk to a simmer in a sauce pan. Reduce the heat to low and add the chocolate, stirring to prevent the chocolate from sticking to the bottom.
Very slowly add one cup of the hot milk mixture into the eggs and sugar, whisking constantly. Add the rest of the hot milk, whisking constantly until well combined.
In a small non-stick baking dish, put half of the diced bread, spreading it evenly to cover the bottom. Add half of the milk mixture to cover the bread.
using a spoon or curved spatula place the cranberry jelly or sauce in small amounts evenly over the bread. Add the remaining bread and cover with the remaining milk mixture.
Press lightly on the bread to soak in the milk. Cover with foil and bake 30 minutes.
Remove foil and bake for an additional 15 minutes or until top is lightly browned. Remove from oven, cut into 4 pieces and serve.