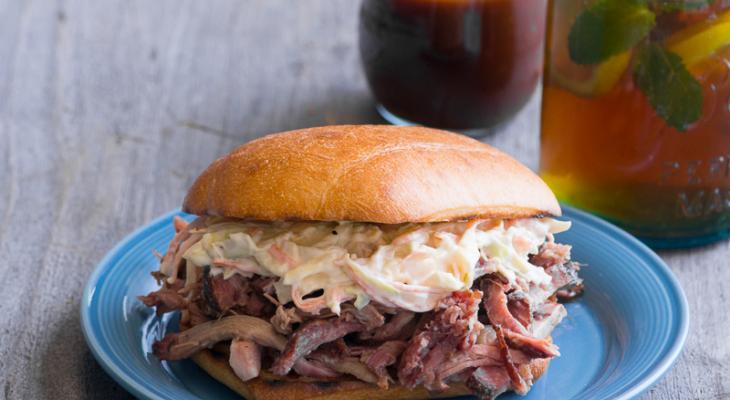 Ingredients
Ingredients for sandwich and dry rub:
1 ½ tablespoons coarsely ground black pepper
1 ½ tablespoons (packed) dark brown sugar
1 ½ tablespoons paprika
1 tablespoons coarse salt
½ teaspoon cayenne pepper
1 untrimmed boneless pork shoulder halves (also known as Boston butt; about 3 pounds total)
Ingredients for mop:
1 cup apple cider vinegar
1/2 cup water
2 tablespoons Worcestershire sauce
1 tablespoon coarsely ground black pepper
1 tablespoon coarse salt
2 teaspoons vegetable oil
Ingredients for the grill:
8 pounds (about) 100% natural lump charcoal or charcoal briquettes
6 cups (about) hickory wood smoke chips, soaked in cold water at least 30 minutes
Preparation
Make dry rub: 
Mix first 5 ingredients in small bowl to blend.
Place pork, fat side up on work surface.  Cut each piece lengthwise in half.  Place on large baking sheet.  Sprinkle dry rub all over pork; press into pork. Cover with plastic; refrigerate at least 2 hours (Can be made 1 day ahead and keep chilled).
Make mop:
Mix first 6 ingredients in medium bowl.  Cover and refrigerate.
Following manufacturer's instructions and using lump charcoal and 1/2 cup drained wood chips for smoker or 1 cup for barbecue, start fire and bring temperature of smoker or barbecue to 225°F. to 250°F. Place pork on rack in smoker or barbecue. Cover; cook until meat thermometer inserted into center of pork registers 165°F., turning pork and brushing with cold mop every 45 minutes, about 6 hours total.  Add more charcoal as needed to maintain 225°F. to 250°F. temperature and more drained wood chips (1/2 cup for smoker or 1 cup for barbecue with each addition) to maintain smoke level.
Transfer pork to clean rimmed baking sheet.  Let stand until cool enough to handle. Shred into bite-size pieces. Mound on platter. Pour any juices from sheet over pork. 
(Can be made one day ahead.  Transfer pork and any juices to baking dish. Cover with foil; chill. Before continuing, rewarm pork, covered in 350°F. oven about 30 minutes).  Grill Telera rolls lightly and divide pork among bottoms. Drizzle lightly with barbecue sauce. Top with coleslaw and cover with Telera roll.