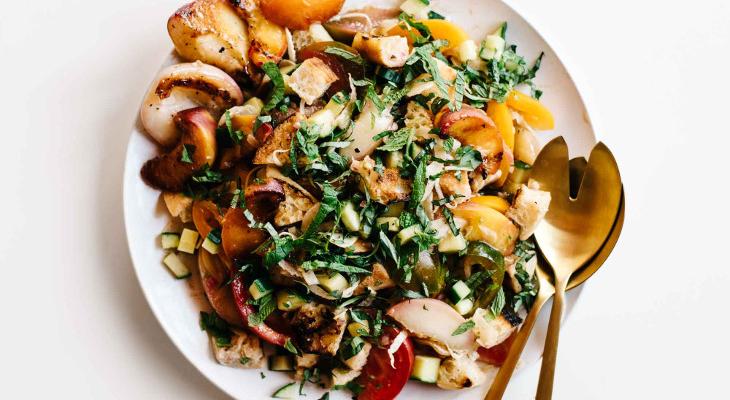 Recipe by Kale and Caramel
Ingredients
Grilled Nectarine Panzanella Salad
olive oil, flaky sea salt, and pepper, for grilling
3 medium nectarines, halved or quartered, pits removed
1 cup shaved or very thinly sliced fennel root
1 cup diced cucumber, skin on
3 medium heirloom tomatoes, sliced and gently deseeded
shallot vinaigrette, recipe below
1 handful fresh mint leaves, chopped
1 handful fresh basil leaves, chopped
1/4 cup crumbled feta cheese, sheep's milk preferred
Shallow Vinaigrette
2 tablespoons minced shallot
3 tablespoons red wine vinegar
2 tablespoons olive oil
1/4 teaspoon sea salt
Preparation
Heat a gas grill to high, and place a medium iron skillet on one half of the grill. Give the skillet a light drizzle of olive oil.
 
Brush all surfaces of the cut nectarines with olive oil, and sprinkle with flaky sea salt and pepper. Brush all surfaces of the Take & Bake ciabatta rolls with olive oil.
 
Once the grill has heated completely and the skillet is way too hot to touch, place the nectarines in the skillet, cut side down. Check the nectarines every two minutes until the juices begin to caramelize and the cut side begins to turn a golden brown. Once the cut side is properly caramelized, remove the skillet from the grill and set aside to cool.
 
While the nectarines grill, place the Take & Bake ciabatta rolls directly on the grill grate.
 
Check the ciabatta rolls frequently and removed once they're toasty to your liking. Set aside to cool.
 
Once the ciabatta rolls and nectarines are cool enough to handle, cut the ciabatta into 1-inch cubes. Slice the nectarines into 1/2-inch slices.
 
In a large bowl, gently mix the grilled bread and nectarines, the fennel, the cucumber, and the heirloom tomatoes. Allow the flavors to marry as you make the dressing.
 
In a small jar or glass, whisk together the minced shallot, red wine vinegar, olive oil, and sea salt. Put on a lid and shake or whisk to combine.
 
Pour the dressing over the salad mixture, and gently toss once again to coat all ingredients.
 
Empty the salad out onto a platter or serving vessel, and let it sit another 10 minutes or so for the flavors to mingle. (Also fine to serve immediately.)
 
Just before serving, chop the basil and mint and sprinkle over the salad, along with the feta cheese.
 
Enjoy outside all summer long.