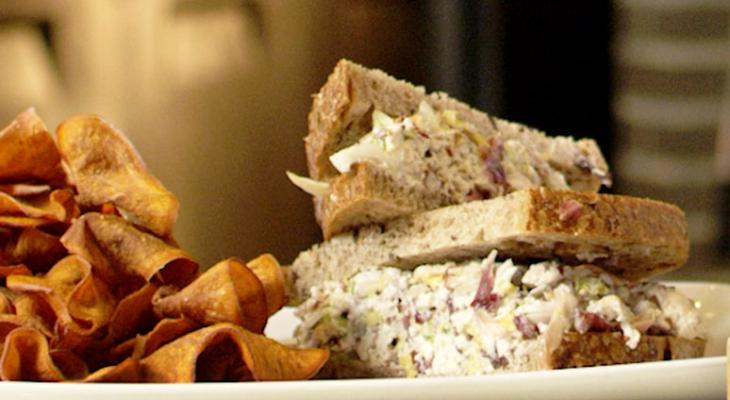 A classic La Brea Bakery sandwich on our savory Kalamata Olive Loaf.
Ingredients
½ cup Chicken, shredded
¼ Cup Napa Cabbage
¼ cup Radicchio
½ Tbsp. Kalamata Olives
½ Tbsp. Italian Parsley, chopped
1 Tbsp. Minced Garlic
4 Tbsp. Whole-Grain Mustard
¼ cup Mixed Greens
6 Cup Olive Oil, Extra Virgin
2 Egg Yolks
1 ½ Tablespoons Whole-Grain Mustard
1 ½ Cup Red Wine Vinegar
4 Tablespoons Fresh Squeezed Lemon Juice
Pinch of kosher salt
Pinch of freshly ground black pepper
Preparation
In a medium bowl, whisk the egg yolks, salt, pepper and mustard. Add the vinegar and lemon juice and whisk together. Slowly drizzle in the oil, drop by drop, whisking constantly.
Add the chicken, cabbage, radicchio, olives, parsley, garlic and mixed greens into the bowl and toss with the dressing. Slice the roll in half lengthwise. Place all the mixed ingredients on one half of the olive bread, and plate the sandwich.