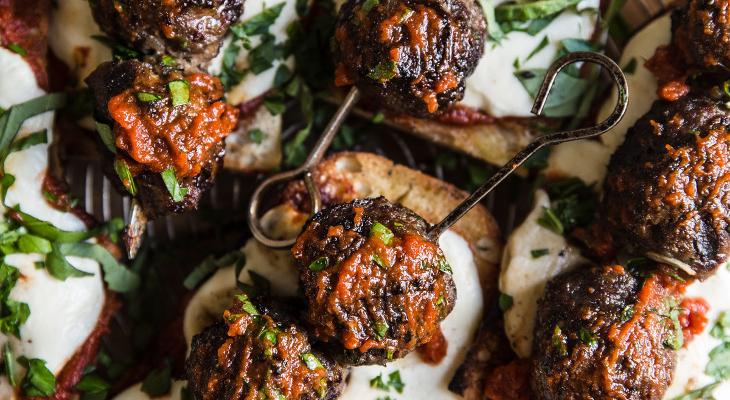 Ingredients
1 lb ground beef
1/2 lb mild Italian sausage, ground
1/3 cup Italian parsley, finely chopped
3 garlic cloves, finely chopped
1/2 cup Italian style bread crumbs
1 egg
2 oz parmesan cheese, freshly grated
1 tsp salt
1 tsp pepper, freshly ground
4 tbsp olive oil
8 slices fresh mozzarella cheese
1 jar good marinara sauce
fresh basil, chopped
Preparation
1. Place the beef, sausage, parsley, garlic, bread crumbs, eggs, cheese, salt & pepper in a large bowl. It is important to not over mix the meat, so use your hands to combine the meatball ingredients. Once all ingredients are combined, roll into 1.5 inch balls and thread onto 4 skewers.
2. Place the meatball skewers on the grill. Using tongs, rotate the meatballs until cooked through and evenly browned on all sides about 8-10 minutes total, depending on grill temperature.
3. Cut the baguette crosswise, split each piece horizontally and brush with olive oil. Place the bread face down in the grill. Flip the bread over when it is crispy and grill marks have appeared.
4. Top each baguette with mozzarella and wait for it to melt before removing it from the grill.
5. Place grilled meatballs onto the cheesy bread, drizzle with sauce and sprinkle with fresh basil.