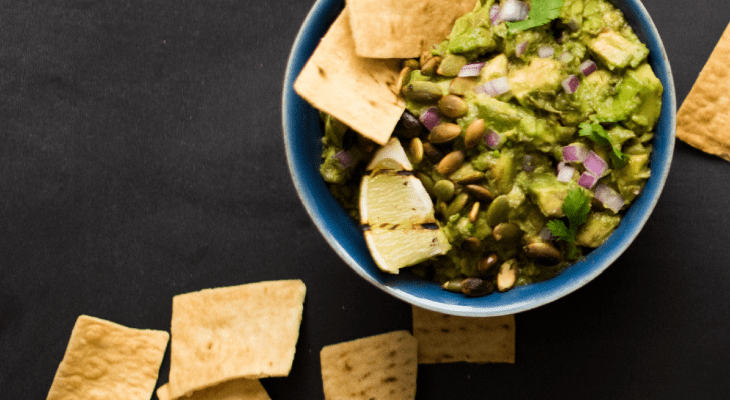 This guacamole serves up a surprising crunch and smokey chipotle flavor.  Whip some up and enjoy with our flatbread crisps.
Ingredients
3 ea. Avocados, divided
2 Tbsp. Onion, Finely Chopped
2 ea. Small Garlic Cloves, Finely Chopped
4 Tbsp. Cilantro Leaves, Chopped
¾ tsp. Salt
¼ cup Pepitas, toasted, plus more for garnish
2 Tbsp. Fresh Lime Juice
1 Tbsp. Canned Adobo Sauce
Preparation
Cut 1 avocado in half, remove pit and scoop flesh into medium bowl. Add onion, garlic, 2 tablespoons cilantro and salt; mash with a potato masher or fork until almost smooth.
Cut remaining 2 avocados in half and remove pits. Score the flesh in the avocados in a crosshatch pattern with a knife and scoop out the flesh with a spoon into the bowl. Add remaining 2 tablespoons cilantro, pepitas, lime juice and adobo sauce. Stir with a fork, gently mashing until combined but still chunky. Garnish with additional pepitas, if desired.
Serve with La Brea Bakery Flatbread Crisps and enjoy!