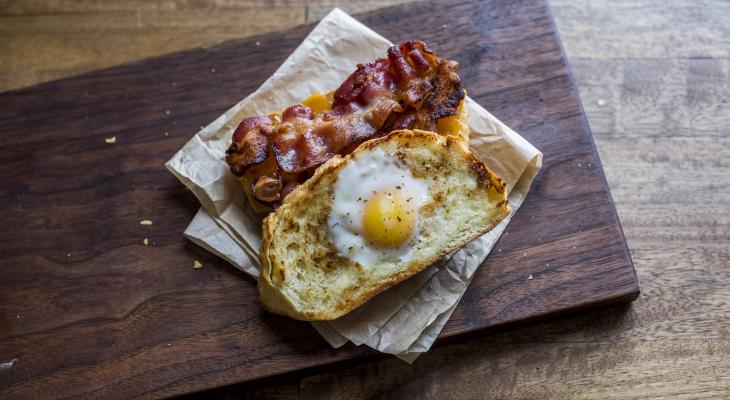 Enjoy this quick and easy sandwich recipe infused with all of our favorite traditional breakfast flavors.
Ingredients
2 slices Bacon, Cooked
1 Eggs
1 slices Aged Cheddar Cheese
½ Tbsp. Butter
Salt and Pepper to taste
Preparation
Cook bacon in a frying pan to your preference, set aside.
Cut 2 slices of La Brea Bakery Three Cheese Semolina Garlic Loaf and cut out a hole in the middle of one of the slices.
Lightly butter the two slices of bread and place in a non-stick frying pan on low-medium heat to toast with butter side down.
Flip both slices after golden brown. On one slice of the now toasted bread place a slice of aged cheddar cheese to melt. Crack 1 egg into the hole of the other slice of toast.
Cover and let cook for 3-5 minutes. Remove and set aside.
To assemble, add salt & pepper as needed to the egg slice of toast, pile on bacon and cover with the melted cheddar slice of toast.
Enjoy!