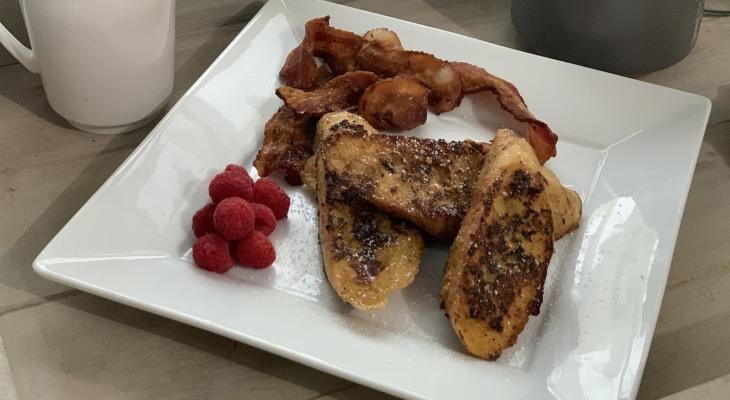 Ingredients
1 La Brea Bakery Sourdough Baguette, sliced 1-inch thick
1 1/2 cups eggnog, store-bought or homemade
2 tablespoons dark run (optional, can omit or use 2 teaspoons run extract)
4 large eggs
1/2 teaspoon ground cinnamon
1/4 teaspoon ground nutmeg
1 teaspoon vanilla extract
3 to 4 tablespoons unsalted butter
Whipped cream and maple syrup for serving
Preparation
Slice the baguette in 1" thick slices and set aside to dry out a bit. This can be for 15 minutes, as you prep the batter, or for up to 48 hours on your countertop.
Whisk together eggs, eggnog, vanilla extract, cinnamon, rum and nutmeg.
In a large skillet, melt butter over medium heat or use non-stick cooking spray.
Dip each side of your slices in the eggnog mixture and put them in the pan.
Cook until each side is golden brown, about 2 minutes on each side. Add butter or cooking spray to the pan as needed for cooking.
Plate and top with butter, whipped cream and syrup.
Recipe by: Colleen Lietz