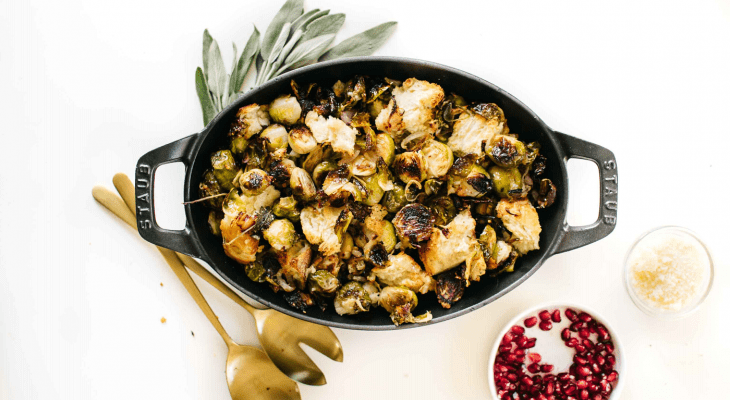 The perfect holiday table brussels sprouts: Crispy, tender, roasted, cheesy, herby, and tossed with chunks of roasted bread and pomegranate.
Ingredients
3 pounds brussels sprouts, trimmed and halved (about 7-8 cups of brussels sprouts halves)
1 cup thinly sliced shallots (about one medium-large shallot)
15-20 fresh sage leaves
4 tablespoons olive oil
3/4 cup grated parmesan cheese, divided
1 teaspoon kosher or medium coarse sea salt
freshly cracked pepper to taste
4-5 cups La Brea Bakery Three Cheese Semolina Loaf (torn in 2-3 inch chunks)
3 tablespoons red wine vinegar
1/4 cup pomegranate seeds
Preparation
Preheat oven to 425ºF. Line a large baking sheet with parchment paper.
Place brussels sprouts halves, shallots, and sage in a single layer on the parchment-lined baking sheet. Drizzle with olive oil, then sprinkle with 1/4 cup parmesan, salt, and pepper. Toss to coat evenly.
Bake for 20 minutes, then add the bread chunks, toss, sprinkle with another 1/4 cup parmesan, and continue to bake another 10 minutes.
Remove from the oven when edges are crispy and browning, sprinkle with red wine vinegar, toss, and sprinkle with remaining parmesan cheese and pomegranate seeds. Serve immediately.
Recipe by: Kale & Caramel