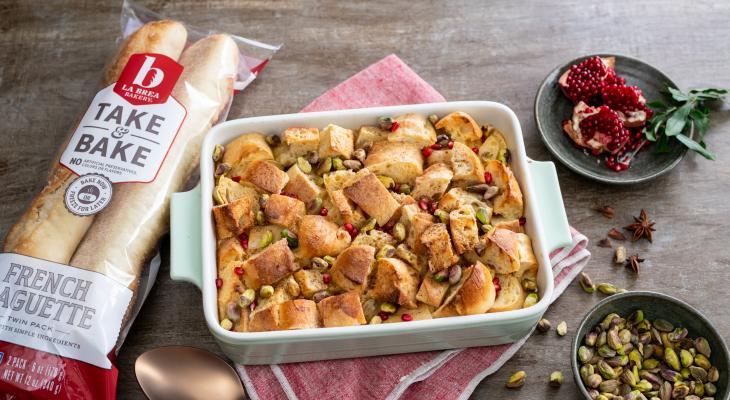 Ingredients
2 Take & Bake Baguettes, toasted and sliced into cubes (about 7 cups)
3 cups of eggnog
½ cup brown sugar
4 large eggs
2 Tsp vanilla extract
½ Tsp ground nutmeg
¼ Tsp ground clove
½ Tsp ground cinnamon
½ Tsp salt
1 cup dried cranberries
½ cup pistachios
½ cup pomegranate seeds
¼ cup bourbon (optional)
Preparation
1. Preheat oven to 350 degrees F. Cut baguettes into 1-inch pieces. 
2. In a bowl, whisk together eggnog, brown sugar, eggs, vanilla, nutmeg, clove, cinnamon and salt. Add fruit, plus the bourbon, if using.
3. Place bread in a 9x13 baking dish. Pour egg mixture on top.  Press bread down into mixture to soak up liquid. 
4. Bake for 45 minutes until pudding is set and golden brown. 
5. Cool and top with pistachios and pomegranate seeds.
6. Spoon out and serve warm.