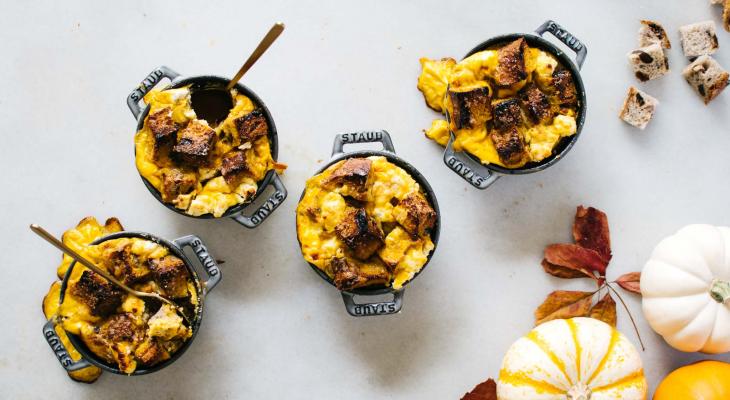 This strata—an egg-heavy bread pudding—is the perfect, easy solution for a weekend brunch. It's just the dish to whip up for a meal with friends, providing an added layer of hope to tuck into.
Ingredients
butter for ramekins, cocottes, or pan
6 eggs
1 cup whole milk
1/2 cup pureed pumpkin, unsweetened
2 tablespoons maple syrup
1/4 teaspoon sea salt
1/4 teaspoon ground nutmeg
3 cups cubed Pecan Raisin La Brea Bakery bread
5 ounces fresh goat cheese (about 1/2 cup)
2 teaspoons brown sugar
Preparation
Preheat the oven to 375ºF. Butter the bottom and sides of four 8-oz. ramekins or mini cocottes. Alternatively, use an 8- or 9-inch pie pan.
Whisk together eggs, milk, pumpkin, maple syrup, salt, and nutmeg, until completely blended.
Add a generous 1/3 cup layer of cubed bread to the bottom of each ramekin. Cover with dollops of goat cheese, totaling 1 tablespoon. Add another generous 1/3 cup layer of cubed bread, and more dollops of goat cheese, totaling another 1 tablespoon of each. (Each ramekin gets a generous 2/3 cup bread cubes and 2 tablespoons of goat cheese total.) 
Place ramekins on a large baking sheet. Pour about 3/4 cup of the egg mixture into each ramekin, making sure to get egg on all bread surfaces. Fill each to just below the top.
Sprinkle 1/2 teaspoon of brown sugar over the top of each.
Bake for about 30 minutes, until the strata has set and is beginning to brown on top. You may get some spillover—that's what the baking sheet is for.
Let cool for 5 minutes, then serve.
Recipe by: Kale & Caramel