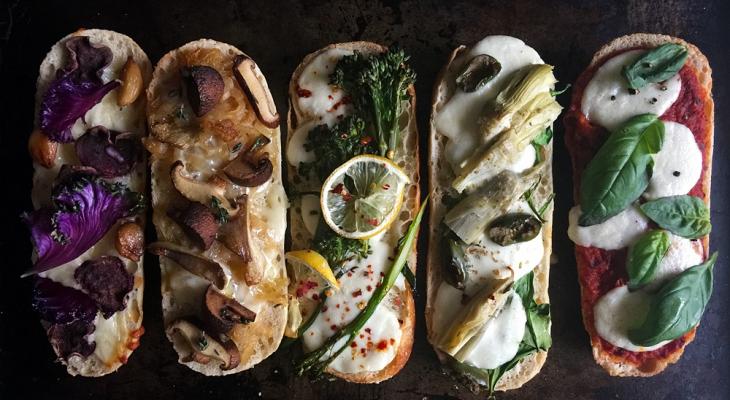 Endless combinations of your favorite pizza toppings on cracklingly crisp crusted French baguettes with pillow-soft centers, laden with sweet and spicy sauce and melted cheese.
Ingredients
½ cup Pizza Sauce
1 cup Mozzarella Cheese, Shredded
5 Bocconcini (Fresh Mozzarella, the size of swollen golf balls)
x pepperoni or Prosciutto
x Bacon, Cooked
x Eggs
x Fresh Cherry or Grape Tomatoes, Sliced into Halves
x Broccolini, Lightly Blanched
x Lemon, Thinly Sliced
x Fresh Baby Spinach
x Marinated Artichokes
x Green Olives, Cracked and Pitted
x Pickled Spicy Chili Peppers, Sliced into Rings
x Caramelized Onions
x Fresh Mushrooms
x Roasted garlic Cloves
x Purple Sweet Potato, Blanched and thinly sliced
x Fresh Basil
x Dried Oregano
x Flaky Sea Salt and Fresh Cracked Black Pepper
x Crushed Red Pepper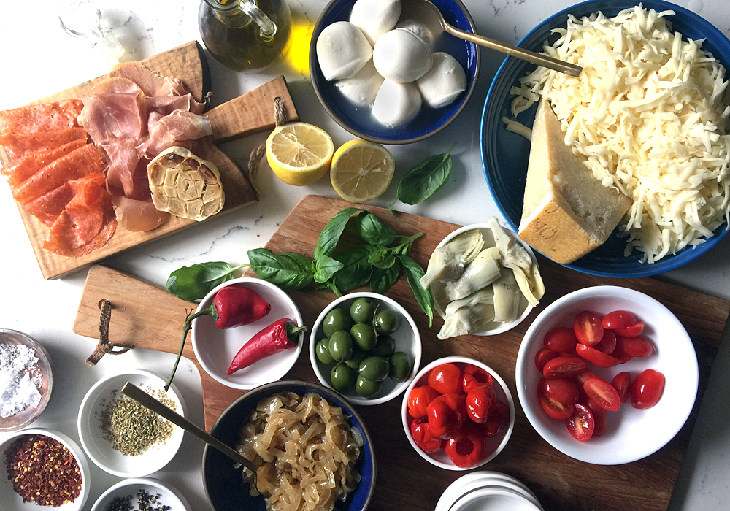 Preparation
Prepare the Bread: Heat oven and bake La Brea Bakery French Demi Baguettes according to package directions. Bake time is 10-12 minutes.
Remove baked baguettes from oven and allow to cool. Line a baking sheet with parchment paper.
When the baguettes are cool enough to handle, about 10 minutes, slice open each demi baguette lengthwise and lay flat on the baking sheet. You may need to slice off small pieces from the top side of each baguette to make sure it lays flat.
Assemble Pizzas: Increase oven temperature to 400°F. Rub the cut open sides of each baguette with a clove of garlic. For pizzas with tomato sauce, spread 2 tablespoons pizza sauce on bread.
Bake assembled French Bread Pizzas for 10-12 minutes, or until cheese is melted and golden browned in spots. Remove from oven and garnish with fresh basil, oregano, crushed red pepper, and/or salt and pepper. Serve immediately.
To make French Bread Pizzas into appetizers, cut each French Bread Pizza into pieces. 
Top pizzas with whatever toppings you like. The pizzas pictured are as follows:
Shredded mozzarella cheese, fresh cherry tomatoes, garnish with fresh basil
Pizza sauce, shredded mozzarella cheese, spicy pepperoni, hot pickled peppadew peppers
Shredded mozzarella cheese, bacon, egg yolk
Fresh baby spinach, sliced bocconcini mozzarella, marinated artichokes, cracked castelveltrano (green) olives
Smashed roasted garlic, sliced bocconcini mozzarella, broccolini, lemon
Caramelized onions, shredded mozzarella cheese, cremini, oyster, and shiitake mushrooms, fresh thyme
Pizza sauce, bocconcini mozzarella
Shredded mozzarella, roasted garlic cloves, purple sweet potato, purple kale
Recipe by: The Delicious Life