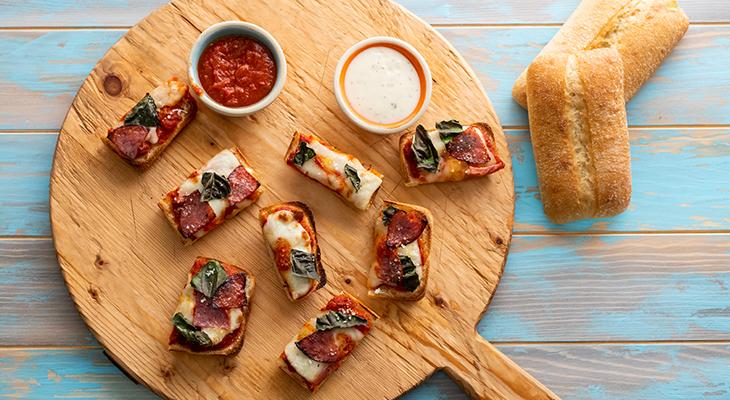 Ingredients
1 Take & Bake French Roll
½ Cup + 4 Tbsp Tomato Sauce (favorite store bought)
4oz Shredded Mozzarella Cheese
1oz Pepperoni
6 fresh Basil Leaves
½ Cup Ranch Dressing (favorite store bought)
1 Tsp Olive Oil
Preparation
1. Set oven to Bake 350 degrees.
2. Slice the French Roll in half lengthwise and brush with Olive Oil. Place in the oven and bake just until the bread gets a little golden color. Remove and set aside to cool.
3. To build the pizzas, lay the bread cut side up on a flat surface and top both pieces of bread with tomato sauce, Next add the cheese on both pieces.  Add Pepperoni to on slice of bread if desired and top both with Basil leaves. Put in the oven and back just until cheese is melted.
4. Add remaining tomato sauce and Ranch dressing to bowls for dipping.
5. Remove, let cool slightly and cut into strips if desired and dip away.